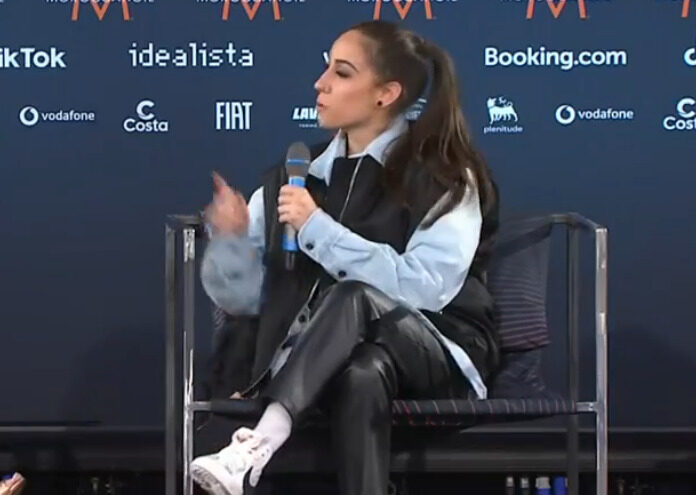 Andrea runs onto the press conference stage and says that everything has gone really well and she is very excited but adds that she still has to make things better.
Talking about her time in Turin, she's already made loads of friends, naming the entrants from Australia, Czech Republic and Romania (who she adds is so cool on stage). She has huge respect for everyone taking part this year. She adds that she'll be alone on the stage, but stresses that doesn't daunt her.
Chemistry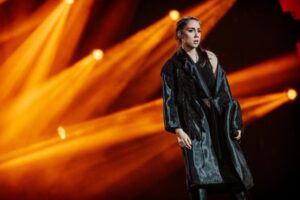 Talk turned to 'Circles'. Andrea has been working with the song writing team for the last four years, and they have great chemistry. Her approach to songwriting is that music always comes first. She's no fan of manufactured music from song factories who produce stuff to order.
Her Eurovision song was written at a time when she was dealing with a difficult situation, and the lyric just sort of evolved from what she was trying to make sense of. She says the message is that everyone can both go back and move on, that if you're truly unhappy, you need to change everything around you, because really there's nothing out there to stop us. You need to tell yourself when enough is enough.
Time in America
When she first started out making music, her parents were not especially supportive, but these days they are super proud. Her father took her to the US for a year when she was younger – it was a great time to absorb ideas and cultures and widen her ideas for music.
Away from music, Andrea is a kick-boxer, the sport helps her both physically and mentally, as things can get too much at times. Of course, the moderator (clearly running out of things to say) asked to see some moves.
If North Macedonia wins Eurovision, the most logical place to host would be Skopje. Although to be fair, Andrea was quite taken aback by the question – not sure she's in the winning the whole thing frame of mind.