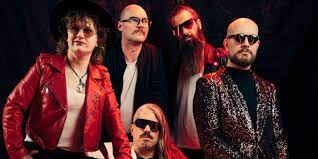 Australia – Voyager – Promise
I think you know me well enough to know that it's no great secret that I don't much care for Australia being in this contest but, on the flip side, you also know me well enough to know that if the song is good – that won't make that much of a difference.
If this, then, is to be their last foray into the Eurovision (so the rumour goes and I;ve seen nothing to quash it at the mement) then cancelling Australia Decides and getting the runners up from last year to perform is a stellar rage quit.  That's what we have though.  Promise could  have come straight out of the electro pop, nuwave playbook of the mid 80s but with a twist for both the tiktok generation and those of us that remember Temptation by Heaven 17 the first time round.   The band seem to be accomplished performers of this type of thing and are an established live band – something that has been missing from one or two aussie entries in the past.
There is a very decent song in here with a lot of good songwriting qualities.  It is coherent and, most importantly, its not trying to be A Eurovision song – it's just a damn good track that happens to be put into the contest – that did Sam Ryder no harm at all. I reckon that this is sailing through to the final on merit and when the boys give this "the beans", its going to be irresistible to those of a certain age.  You should be looking at a Top 10 in the final with this.
Phil's Score – 6 Points