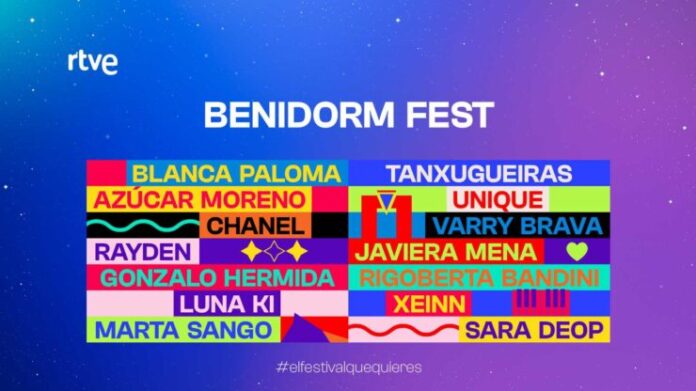 RTVE, the Spanish national broadcaster, today revealed the 14 performers (and titles of their songs) taking part in Benidorm Fest 2022.
The competing artists and songs are:
Azúcar Moreno – "Postureo" (Posing)
Blanca Paloma – "Secreto del agua" (Secret of water)
Chanel – "Slo mo"
Gonzalo Hermida – "Quién lo diría" (Who would say it)
Javiera Mena – "Culpa" (Fault)
Luna Ki – "Quiero Morir" (I want to die)
Marta Sango -."Sigues en mi mente" (You stay in my mind)
Rayden – "Calle de la llorería" (Crying street)
Rigoberta Bandini – "Ay Mama" (O Mum)
Sara Deop – "Make you say"
Tanxugueiras – "Terra" (Land)
Unique – "Mejores" (Better)
Varry Brava – "Raffaella"
Xeinn – "Eco" (Echo)
The 14 songs will be split into two semi-finals, with four qualifying from each. The grand final features eight songs. The dates of the shows and who is in which semi will be announced on 23 December.
Here's the Benidorm Fest website just in case you're eager for more.
Image Credits: RTVE.