After what seems like forever since we first heard 'the sun won't shine', the first full run-through of Eurovision 2022 took place. The first semi-final enjoyed two rehearsals yesterday – the second being the all-important jury show. So what did the Internet have to say?
Sunshine
Obviously discussions about 'the sun' reared their sleepy, controversial heads once more. 'It moves,' claimed many an affronted fan. 'It takes under two minutes,' insisted another. Once more the self-proclaimed large event organisers and television technicians were up in arms, insisting Rai sabotaged their lives. Away from this, the opinion of those who saw the rehearsals yesterday was that everything looked and sounded fine. Those who have following the show for more than two or three years will confirm Eurovision organisation was always a mess … right up until it mattered.
Streaming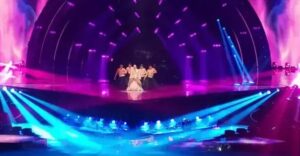 Elsewhere, a handful of fan sites took to streaming the show online – something explicitly forbidden in accreditation terms and conditions – and the kind of thing that saw many locked out of the process this time around. If you truly wanted to spoil the surprise, you could watch something filmed on a phone from the middle of the arena with terrible sound and the noise of people all around. The most discussed moments online included: 'Can Pia hit the notes?' and 'Are Mahmood and BLANCO trying?'
SHUM
The 'real' media are starting to earn their keep with cobbled together pieces on the Contest. On the whole it's the usual 'Europe is mad' stuff, but spare a thought for the researcher at UK ITV breakfast television who might have a few questions to answer around about now. The presenters today spoke about the Ukrainian entry, a band called Stefania. They went on to run a clip from the song and up came 'SHUM'. Twice. It's shoddy and unprofessional and another good reason for why ITV must never get its mucky hands on the show.
Richard Madeley at it again, making a complete arse of himself. Never a day goes by @GMB

— Marion Main (@marionmain3) May 10, 2022
Coming up today – the FAMILY SHOW this afternoon – the one where everyone performs, but not always with hair and make-up done, so it can be fun. AND THEN … The First semi-final live at 8pm UK time on BBC3 or online.