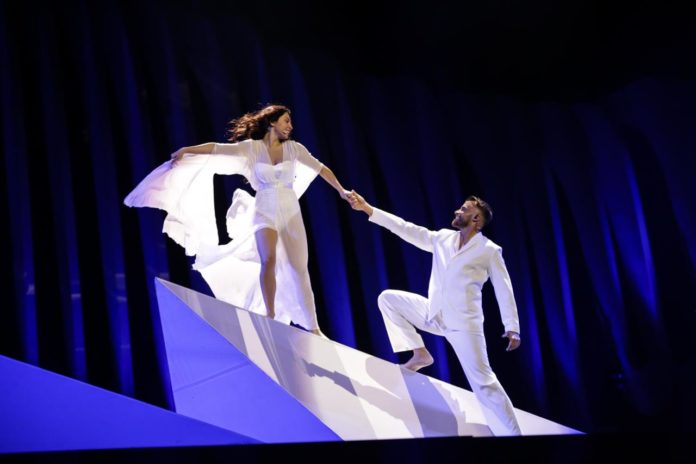 And we're off! Azerbaijan is the first song we see in this year's Eurovision Song Contest. Aisel is in white, legging it around the stage up running up and down on top of triangular structures that look a bit like icebergs poking up from the sea. Well, we do have a nautical theme this year after all, everything's about the bleedin' sea here. The 'icebergs' have neon strip lighting around their edges.
As she runs she flicks her slightly too diaphanous gown, which looks a bit unfortunate, as though she's wearing a silky leotard underneath it appears as though she's giving us a flash of her pants. A quartet of dancers run around being her, striking various poses as the stride magnificently about her. There's a glittery effect overlaid on screen at one point, the first of what I suspect may be several this year (Norway, Italy for starters). It actually looks quite a lot better than I'm probably describing it.
But icebergs are a tricky metaphor; with a weaker-than-your-average Azerbaijan song, is this doomed to be a Titanic Azeri failure for the first time? I have to say, it's less of a ship-wreck than the car crash we could have had, and she's probably upped her chances to qualify with this as it does look good on screen, and is an excellent opener.
Image Credits: Thomas Hanses.