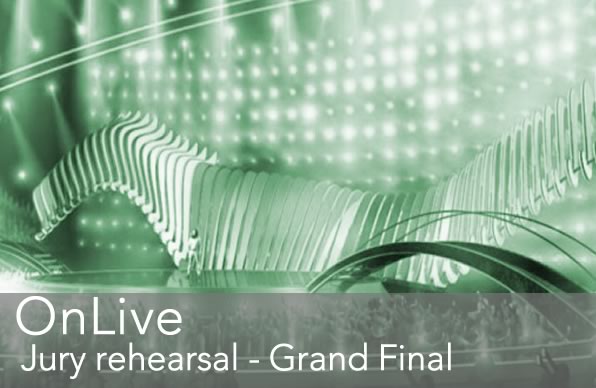 Mr Phil will be taking his last turn at the Live Blog control desk to bring you the sights, sounds and smells of the jury final tonight. In case you didn't know, this is the run-through where the 43 national juries watch and award their points – something that makes up 50% of the score tomorrow. These are the points that get announced before the televote numbers get added.
This year, there's been some jiggery-pokery to try and make things fair – it's a bit niche, so if you want to read about it, look here.
Live from 8pm UK/GMT or 9PM in Non-Brexitland. Join in and have your say. It matters.
May 11, 2019 8:00 pm
ENDED
Latest update 4 years ago
There is an interval and voting to be mocked up and laughed at but that's for tomorrow. 
Tonight, however, I need to be out of the bubble so please put your thoughts down below and thank you for joining me and the mental people that write this site over the last gazillion days.  
Ta-ta
Phil's Jury Ranking after 26 songs
France
Cyprus
Lithuania
Israel
Finland
Estonia
Germany
Ireland
Albania
Hungary
United Kingdom
Denmark
Ukraine
Netherlands
Australia
Italy
Sweden
Serbia
Bulgaria
Czech Republic
Norway
Slovenia
Austria
Portugal
Spain
This is a comedown in this context rather than an explosive end to the contest and that worries me.  The televoters will have just been blown away, literally, by Eleni and then they get a song with a billion words both on screen and off screen and it just turns them off. 
Juries too will be in making their mind up but this will just pass them by.  
6/5 favourite you say.  Let's see how this comes over. 
Objectively it does have that winning feeling.  It has the lowest common denominator factor though but in a better way that Alexander has.  It hits all the buttons for a televoter.  It's easy on the eye for the straights, it's got the vibe that the homos like and for your mom in Reykjavik it has that Eurovision feel about it.  It has a hook, a defined structure and strobe lighting. 
Is it the best thing I've seen tonight?  - Probably.  Is there a chance it won't win? - Yes the juries could scupper it because it's generic but on this performance, it's in with a chance.  
This has got an excellent draw.  After the run of songs that could, potentially, cancel each other out, Ryan comes as an ocean of calm in the mentalness that has just come on screen. 
His voice is still a little grating as it was the first time I heard this and the gays in the audience cheer the dancing gays.  I'm sure RTE will be sending Hunan TV a massive bouquet of flowers and say " thank you for promoting my song"
There are juries that will mark this down, and we all know who they are, but the sensible people will give this the credit that the vocal performance deserves.   It blends well with the piano.  It's not a winner, but it's the best Ireland have sent in years. 
If you close your eyes you won't have to see Waylon and his swaggering punchable face.  The song itself is good without Waylon having to do the pointing to the krumping.  
As a piece of television, though which it has to be judged by, it's looks good, sounds good but, and it's a big but, there are better songs.   The juries should give it credit for being performed well in the main (a couple of notes wrong) - but as a televoter it will sit badly. 
and finally in the lets fuck up the jury scorecard stakes is Israel. 
Lord only knows what the juries are going to do or where to place this.  If you do a comparison between Hungary and Israel then it's Hungary by a mile.   I still suspect that the televote is where this is going to do it's business tomorrow night.  I also get the feeling that the juries could well scupper this doing well. 
Netta is giving it 100% thankfully which is what the song deserves but I don't think it's all that.  Especially with what has gone on before.  
Twenty One songs into the contest and again something else that could fuck up the jury scorecard massively. 
This will split opinion right down the middle.  On screen AWS are the pretty boy rock band with the shouty song that perform the hell out of it.  In the jurors heads are they going to go "this is not Eurovision" like some of the fans do? - I suspect that the fans aren't representative though. 
This is not coming last, it's picking votes up left and right  but I suspect 2-3-4-5 which is not going to be enough. 
The boys also seemed to be out of key at the last change of pace but it wasn't that noticeable (no pun intended)
Again, I forgot about this song. 
It is what it is i'm afraid
Just Excellent
Sorry I had computer problems so it wiped my words. 
This is genius.  
Load More