Tonight it's time for the Grand Final of the 2018 Eurovision Song Contest. Months of preparation for both the organisers and those taking part end with 'the big show'. Much like last year, the field is wide open. If you're about to shop for snacks and drinks and want to theme your night, here's a quick catch-up of the favourites.
Cyprus
Eleni Foureira was born in Albania, lives in Greece and is singing for Cyprus – so that's 48 points in the bag before she starts. The songwriter is Swedish. She's singing an old-fashioned banger – expect it to soundtrack your summer if you're off somewhere warm. . Her signature move is her hair flick, which she calls her "hairography".
"We are five women on that stage being sexy, being powerful, being fearless, so we just want to show there's nothing wrong with being sexy and powerful. There's nothing wrong with being a strong woman and they have to do that. We are strong, we are powerful and we bring that fire."
Few fancied Eleni's chances at first – and the initial (heavy on product placement) promotional video was poorly received. But rehearsal week changed everything. There was a tiny fuss when – in a gesture of solidarity – Eleni was photographed making the Albanian eagle gesture with fellow finalist Eugent Bushpepa. The picture went viral and met with controversy in Greece.
Sample lyric: I was looking for some high-high-highs, yeah, 'Til I got a dose of you, You got me pelican fly-fly-flyin'
Odds at 17:30: 5/4 FAVOURITE
Israel
Netta won a televised talent show to reach the show. She's known for performing with a 'looper' – a machine that records her voice and transmits it back live, allowing her to multi-track and add effects. The EBU refused permission to use it, as the Contest rules state all vocals must be live, so she's been given a Fisher-Price style prop to play with at the start. After that, all hell breaks loose and it's a riot of colour and gurning. The lyrics suggest a message tied in with the #metoo movement, though Netta herself insists it's for anyone who has felt put upon, bullied or otherwise unaccepted by society.
"I am a very poppy little girl. I wasn't allowed to be poppy at first because y'know in my mind, pop stars are thin and beautiful and light, and I've never felt beautiful, skinny and light. When you are a big girl you are told to think of yourself certain things: that if you are a musician you must have a "big mama" voice, you have to sing Adele or Aretha Franklin. People expect to be "moved" by your voice in that way. I fell into that for a very long time."
It was an early favourite, though saw its odds drift during rehearsals, as many felt the energy of the video didn't translate to the stage. Despite this, she's been the one earning all the headlines in preview press features. Spotify revealed that 'Toy' is the most listened to song across all competing territories (when numbers for Israel were removed).
Sample lyric: Hey, I think you forgot how to play, My teddy bear's running away
The Barbie got something to say: Hey! Hey! Hey!
Odds at 17:30: 16/5
Ireland
It's been a LONG time since Ireland featured in the running to win Eurovision. Ryan O'Shaughnessy was tipped to crash and burn on Tuesday, but then something changed. For one thing, a Chinese TV company cut him from their relay – supposedly because he features two gay boys dancing a love story – and the press picked up on it. And then people started to listen and they heard something that reminded them of past Irish winners. It's like one of those sci-fi films where there's a gene lying dormant inside everyone that gets dog-whistled into action. In this case, it's the one that tells everyone to vote for Ireland, because they always win the thing.
"Having a gay couple was really important. This is coming from a straight man – a lot of people asked me why I was doing it if I'm not gay. It's because my nephew could be gay, or my kids could be gay. To break down barriers is what we need to continue doing and Ireland is a great country for doing that. We've done that time and time again over the last ten or 15 years with referendums  and stuff. We come from a place that can do that and that's what I wanted to bring to this experience."
Sample lyric: Why have you been coming home so late in the evening? Is there someone else that I should know about?
Odds at 17:30: 10/1
France
Husband and wife duo Madame-Monsieur care about branding. On stage and for press conferences, they dress alike and ooze sophistication. France is almost always a fan favourite and often starts the evening in the bookie's top ten. This year, their song has an edge. It was inspired by the story of a girl born at sea in the midst of the European migrant crisis last year.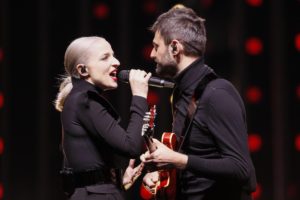 "If people are uncomfortable with Mercy, it may be because they don't want to face reality. It's a song we wanted to sing, and we don't know if it fits or not in Eurovision. There's no problem to have a message and this kind of song at Eurovision, as long as you can touch people with it."
Sample lyric: I am all those children, Who were taken by the sea, I'll live a hundred thousand years, My name is Mercy.
Odds at 17:30: 22/1
and then we have two songs that keep swapping places, so I thought I'd include both …
Sweden

Benjamin Ingrosso is this year's Swedish hope for what would become their seventh victory – equalling the Irish total. His song has been in the running from the get-go, mostly because that's how things always go with Swedish entries. At first, fan sites offered lukewarm support, but that seems to have changed in recent days. Many see him well-placed in the running order, and the staging stands out. In a year where the producers have pushed for low-tech, SVT have shipped in enough neon tubes to stock a small branch of B&Q.
"I want to share my music all over the world and hope that many people like it. It's been an amazing experience so far."
Sample lyric:  Cause I just wanna feel the mood, Girl with anyone but you, And I might now, Yeah I might now.
Odds at 17:30: 20/1
Lithuania
This one crept in at the very last minute. Until rehearsal week, there was no mention of 'When we're old' by most sites – although someone gave it douze points in his pre-show review. Ieva Zasimauskaitė is now fifth in line to the Eurovision throne if you trust bookmakers (though who does?). It's also been highly rated by press polls. Seeing Ireland and Lithuania in the shortlist is perhaps a tad surreal though, and one is likely to stumble.
"My video features my parents, my friends, and my grandparents. So the emotions are real. I really wanted to work with my husband too. We've been together now for eight years. Everyone faces struggles in life, and the most important thing is to never give up. If your heart is saying it is the right person, look at the positive things and don't give up."
Sample lyric: Right from our very first kiss, I knew we'd end up like this. I'm not afraid to grow old if I have your hand to hold.
Odds at 17:30: 25/1
Image Credits: Andres Putting.