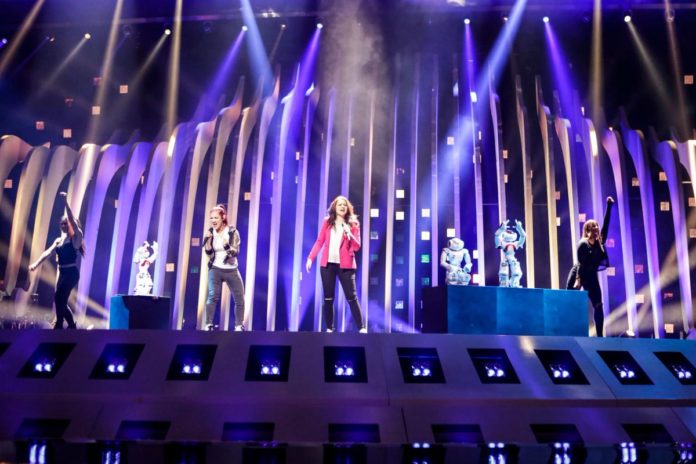 Oh my! San Marino. We thought this might be cheap but it's even cheaper than we hoped. The robots are here – and they've multiplied! Three are given their own featured plinth. One of them seems not to be programmed in time with the others. The third is over on the other side, holding a placard that says, "I'm not your robot". Who knew we'd see some trolling of Israel from Eurovision's microest microstate?
Jessika is draped in a cape, looking like she's about to have a big reveal of a better costume, and this is removed with aplomb by two female dancers, but her costume underneath is underwhelming at best. It's me, Jenny B come on along the front catwalk, pap-rapping her way along. The single robot lifts its sign to reveal a "Will you marry me?" sing on the opposite side before getting its own starring role dancing with Jessika. On the first run through one of the other three robots falls off its plinth.
My! You get the impression, not long into this, that Jessika might be ruing the day she uploaded her video into the preposterous Sammarinese 2018 selection fiasco. Any shred of credibility she might still have held to get her through her native Maltese final at a future date is now surely lost, whilst it's me Jenny B feels shoehorned in to Jessika's starring moment by sole virtue of being already signed to the organising company's record label.
Sometimes when we follow our dreams we sell ourselves short to reach our goal too quickly. Jessika might have been better biding her time in Valetta. She probably wishes she was there right now.
Monty x
Image Credits: Thomas Hanses.