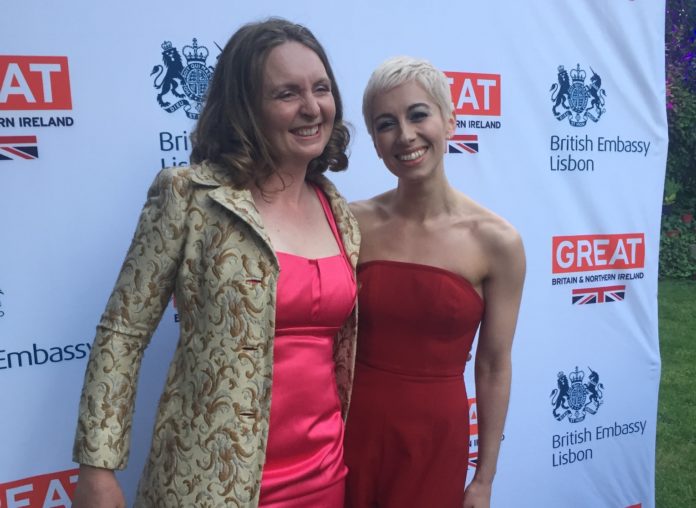 Bom dia, Oneuropeans! Tudo bem? I took another day out of the Press Bubble yesterday, so haven't updated from the first semi-final. I got 8 right, with Armenia and Belgium in, rather than Ireland and Estonia, though I couldn't be more pleased for my Irish friends that they're through to the final for the first time in ages.
Yesterday I joined some fellow Brits and Irish chums on a booze cruise around Lisbon. It wasn't strictly advertised as a booze cruise, but we brought our own boozing, and cruising, and set off like latter-day Vasco de Gama's on a surprisingly small sailing boat. A surprisingly cold sailing boat too. The weather turned just as I proffered my sun cream and by gosh the wind chill set in. Thankfully I could borrow a blanket from the crew and sat there huddled at the coldest Super Bock O'clock yet.
The ambassador's reception
Two hours later we docked and I hot-footed it from the coldest to the hottest ticket in town: the UK Ambassador's Reception. Somehow my invite was lost in the post this year, but I was plus-oned by the lovely Rob Holley who writes for the Independent.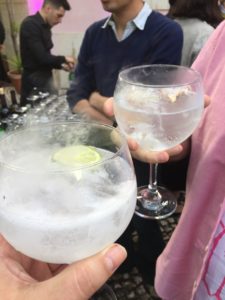 It was another garden party, but mercifully warmer than the poor Ukrainian Ambassador's garden party last year where it actually snowed earlier in the day. Passing through the beautiful residence into the garden we spied a grand piano and dancefloor set up in the garden. The attention to detail was incredible: gloriously large gins and tonic with juniper berries and dry ice billowing over the edge. They were just so tasty I had to have, well, let's call it several.
The Ambassador welcomed us to the party, followed by a speech by the lovely Helen Riddell, head of delegation for the BBC, who introduced SuRie. Backed by the UK's backing singers, she accompanied herself to three songs on the piano, including an acoustic version of the Spice Girls' Who Do You Think You Are, and of course her entry Storm. It was a really special evening, and a treat to be able to attend such a snazzy shindig. Thank you to Ambassador Kirsty Hayes for supporting the UK this way, and for a really rather smashing party.
OGAE party
Afterwards I went to the EuroCafe for the OGAE International party, always a great night. The Café was jammed to the rafters, much busier than Monday night, and featured special guest performers. As I entered the singer from Flor-de-Lys was singing one of my favourite Portuguese songs, Todos As Ruas D'Amor – a dream to hear this sung live after I missed Moscow. Next was Sanna Nielsen with a parade of her Melodifestivalen entries. We could only see her via her reflection in the mirror – tha stage is not very high so it's almost impossible to see over the crowd. They need a riser like the one Paddy O'Connell and I brought on stage mid-song for Anne-Marie David at the London Eurovision Party some years back. Rui Andrade, Portuguese singer who has backed many Eurovision acts including Azerbaijan this year also performed a medley of classics in a selection of languages. Sadly I missed the final act Baccara as after all those gins and tonic I needed to go home.
Serviette of doom
Another great night in Lisbon. Now our attention turns towards the second semi final this evening. My predictions are here, bearing in mind I've not had the benefit of a full run through as I did on Monday.
Let's see how many I get right this time.
Monty x