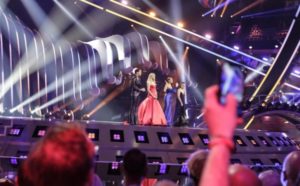 Tonight, Eurovision Song Contest fans get to settle down with the first slice of the 2018 competition. Nineteen songs will compete for ten Grand Final places in the first of two semi-finals. Time to scan the web and see who fandom thinks is in with a chance of making the cut.
We'll also consider the odds offered by bookmakers, though caution that at this point, very little money has been placed. A clearer position should emerge on Friday morning as 'the wider world' decides to take a fun punt.
Cyprus
Eleni Foureira's odds of winning the whole shebang have fallen from 70/1 before rehearsals to 5/2 after the semi final jury show last night. In 2014, during the last few days of rehearsals, Conchita Wurst went from 80/1 outsider to win. Fandom is on fire with the thought of a good old-fashioned banger making the cut. There should be 24 Greek points (and likely the same from her native Albania) tonight to get things going her way. ESCExtra polled the Press Centre and that placed Eleni in first place. Wiwibloggs flash poll has it in first place with 15% of people tipping it for the top.
Israel
Israel's Netta Barzilai had been the bookie's favourite since her song was released in March. She still ranks highly with 'Toy, although her odds have drifted. The song has  enjoyed over 19 million YouTube views, and you'd be hard pushed to find anyone who  thinks she'll miss out on the final.  In an interview with UK free-sheet Metro, Netta played down her chances, calling the attention embarrassing: "I've never been a favourite before ever, in any situation. This is big. This is really big for everybody, not just for Israel." The (British) Independent newspaper has run a full-page article today in which she's described as 'a compelling blend of Bjork, Yelle and M.I.A.'
Estonia
A big frock and good camerawork puts Elina Nechayeva into the running for a favourable result tonight. Although there's been little interest in terms of streaming for the song, it's very much something that is 'made for television', so expect decent scores from televoters. Attention will then switch to Saturday, where many observers suggest she'll have the edge over quirky Netta and the Cypriot balls-out banger.
Czech Republic
By now, fandom is aware that Timberlite Mikolas hurt his back by overdoing it in his first rehearsal. His updated choreography has toned things down, and there feels to have been a genuine draining away of support. Like Israel and Estonia, the song plays early in the running order, and one of them could end as a surprise casualty.
Belgium
Sennek was ranked as a certain qualifier when 'A matter of time' first aired, but rehearsal reports have not been kind, and she's now seen as borderline, and many (including our own Mr Phil) are suggesting we won't see it on Saturday.
Bulgaria
The  Bulgarian national broadcaster has worked their little PR socks off this year, telling everyone how their song is fancied for victory, and leaking (and then swiftly removing) video footage. The bookies offered short odds from the get-go (based largely on past form), although there has been a suggestion of someone backing their own horse to keep the buzz going. Rehearsal reports suggest that 'Bones' comes across as very dark, and Equinox don't work as a group. It's still seen as a sure-fire qualifier by most commentators, but not quite the runaway hit its sponsors want us to believe.
Finland
Saara Aalto known for coming second, but overly complex staging (aimed squarely at gay fans) might see her settle for something less  tonight. That said, nearly every reviewer commented that she held back and sang up a storm when it mattered (last night) and there's no reason to think she won't do the same tonight. If she makes the final, her chances will improve, as she's one of the better-known entrants and can be sure of press coverage (at least) in the UK, Ireland and across Scandinavia.
Borderline
Neither Greece, Armenia nor Azerbaijan are known for regularly missing out on the finals, and most predictions see all three with a better than average chance of success. That said, there's been little in the way of buzz around either entry, so they could slip under the radar.
The other rank outsider now thought to be in with a big chance appears to be Lithuania. Although Ieva hasn't convinced bookmakers, fan sites have gone big when it comes to praise. It came second in the ESCExtra Press Centre poll, and commentators have been told that she's appearing with her (real life) husband. Coming after an upbeat number, she'll either provide welcome respite or a chance to nip off and refill your glass before the first commercial break.
Moving down the list, things look less sure for former Eurovision heavyweight Ireland. Ryan O'Shaughnessy's song is ranked midfield, but as history has shown, midfield can easily mean 'not quite'. If he had secured a spot in the second semi-final, he'd be through, so fingers crossed.
Reports that followed the Austrian rehearsal tended towards the positive, but in the context of the full show, it's moved down the list. It's a true 'maybe/maybe not' for most people trying to guess the outcome.
Eugent Bushpepa has impressed everyone with his vocal prowess for Albania, but that might not distract from an early starting position and an unremarkable song.
Thank you and goodnight
Very few pundits expect to see Iceland, Belarus, Switzerland or Macedonia in the final mix. Croatian dreams also seem likely to shatter; as much as people admire Franka's performance, the song itself is a lumbering beast on an empty stage, and in such a strong field, there has to be a casualty.
The first semi-final airs at 20:00 GMT (21:00 CET) tonight. Mo Fanning will be on hand to talk you through things with a Live Blog.
This is geo-blocked in some places – certainly in the USA – so you may wish to set up a VPN in plenty of time.
Alternative links to watch
Eurovision.tv has published a list of broadcasters who will stream the show online. If you're not sure whether your country is blocked, check this list.
Image Credits: Thomas Hanses, Andres Putting, Thomas Hanes.