I stocked up on cheese balls, pickled onions and creme de menthe, aiming to be the one nobody wanted to kiss come midnight.
Before I reached that shocking state, Mr Phil and the combined forces of the Eurovision Ireland press corps joined me to walk you through the first Eurovision 2019 semi final.
May 14, 2019 7:09 pm
ENDED
Latest update 3 years ago
In the UK, we lost the qualifying recap two seconds into ZENA's screeching encore. There is a God.
Not bad.......  Big shock being Belgium and Georgia not qualifying, and San Marino even with a vocally hideous performance.   
We'll be back on our sofas on Thursday.
Greece
Belarus
Serbia
Cyprus
Estonia
Czech Republic
Australia
Iceland
San Marino
Slovenia
Ten qualifiers coming your way ... after top bantz from Jon Ola
Spare a thought for the house band
Cyprus
Czech Republic
Hungary
Belgium
Georgia
Australia
Iceland
San Marino
Belarus
Estonia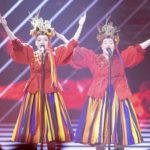 I haven't even got a ten here
There is so much that has gone write and wrong that literally fifteen songs *can* qualify.  Montenegro and Portugal are the only two that I have not qualifying.   Perm ten from fifteen then.  
Load More