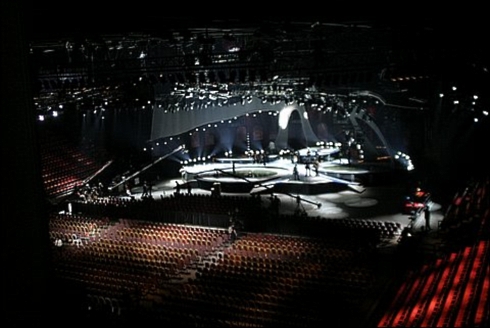 There is a very annoying ident thing playing in the background every time they reveal another "winner" in the semi final. It just really grates on me.
So, dear loyal reader, how did it go ?
I'll take you through it.
Sound problems in the press tent marred the start.We couldn't hear the opening spiel from Korhan and Meltem. What a shame. And then the opening of Finland.
Once we got sound, he sounded competent but not thrilling. In fact, very camp are the words I noted down……
For some reason the Belorussian girl decided not to sing. Has she too got a dodgy throat ? I have no idea but I will endeavor to find out. Everyone else sang and the ocarina player seemed to have made a full recovery. So I have absolutely no clue whatsoever.
Switzerland were just Switzerland and just bored the pants off me and everyone else around me. and have absolutely no chance in this lifetime or any other of being in the top ten.
Now here comes Latvia. Not highly rated by others but then I'm not so sure. I think that this is the best so far and could well be in with a chance. It just depends on who is voting and how lively they feel on a Wednesday evening.
David D'Or seemed to have trouble remembering his words which is quite alarming seeing as he wrote them himself. This was painful on my ears and I dread to think what the viewers at home will make of him.I don't rate him at all !
Marta seems to have decided that her mother's purple baby doll nightie is the thing to wear. This was not as exciting as I remember it being in the hall and to cap it all, one of her backing vocalists really needs to stop singing so shrilly. If that is sorted, then it should get through.
Sofia might well as not bother turning up. her fuchsia pink feathery dress and boring, repetitive and pedestrian song just does nothing for anyone. Least of all her. RTP should have a break and find themselves a real singer !
After a break in which Sakis was interviewed by Meltem ( who does not seem as sure of herself at this stage as I would think I would like to be if I were her ) in the Green Room. we were subjected to Malta. Yes, I can see Maltese journalists to the left of me and I don't care. The dress does Julie no favours and the same goes for both their attempts to sing a dreadful song. Just a world of No
I'm not sure Maryon could get any worse but I wouldn't like to bet on it. Lots of bum notes and the Christmas tree effect at the top just doesn't work for me.The word was that her performance made Jemini look good. And I just didn't think that this was possible…..
She made Sakis look good. Not sure about this one. Has enough gimmicks to stick in the mind. It just depends on what he does with it tomorrow. Remember,there are 3 more rehearsals to go before tomorrow night…….
Some people are going to be bored by this review, but I swear blind that the whole press tent could not have been wrong! Ruslana just didn't seem to need to show any effort. She just made everyone there sit up and take notice. And that's before she even started with the whips….
She's got no worries anbd that's basically what I told the Ukraine head of delegation when he asked me for my feedback.
Linas and Simona's shouting match became absolutely apparant after such a display of talent from the girls and boys of the Ukraine. It just has no chance and looks faintly ridiculous. It's impossible to care about what happened to their love….
I would say Anjeza shone out in comparison but it was a welcome chance to see someone who has a clue about what she is doing……
I just can't tell if this means she'll go through or not. She does actually deserve to…..
Lisa Andreas' chances depend on her nerves. She hit some good notes this afternoon, but I wonder if her nerves might get to her ? Could get the granny vote but not mine.
Platin will get through if commentators sell the backstory to this. I don't think the song itself is its strength. But you never know…..
The Lasses deserve to go through and if Peter the drummer has his way, then they will, It didn't sound too good but then that could be the TV sound feed here. Will know more later…..
I think Ivan Mikulic could get through even though it is a dull song. There are lots of his neighbours eligible to vote so I just can't discount a guy who seems to be aiming for the Chris De Burgh vote.
Thomas Thordasson continues not to camp it up so much. It just could go either way. I think there's better but will the rest of Europe ?
Zeljko seems just to get better in my eyes. Costumes are better than I suspected and he just sells it so well. It just depends if there are enough people who share this view.
Deen's hi-NRG camp antics could impress the gay vote and the children of the disco era. I don't like it myself but the appeal is clear. I'd like to see it in there for some variety.
Re-Union could get the votes from those who think Deen is too much. Fabrizio just sounds like he is struggling vocally and it just is so repetitive. It could, however, be memorable enough to get the vote as the final song.
I'm going into the hall tonight with my other team members. Watch out for our views afterwards !