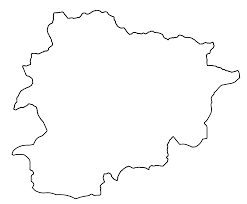 We have some interesting matching of nations. Latvia and Burkina Faso. Ukraine and Congo-Brazzaville. And there's today's singer. Maybe not quite as exotic, but just as noteworthy.
Today's birthday girl Marian van de Wal is Dutch by birth, but Andorran by naturalisation. There can't be many with those credentials, so when one comes along it's worth celebrating. As you'll know, Marian sang for the Pyrenean principality and hoped to be the first participant from there to make the Grand Final. As we know, Andorra never made a Grand Final in their six appearances, but Marian's score in a semi-final was only beaten by one other act from there. We would love to see Andorra return. After all, they might help Spain get a good result. And they could add to the noteworthy international collaborations.
Marian is 51 today.
Feliç aniversari/Gefeliciteerd, Marian!