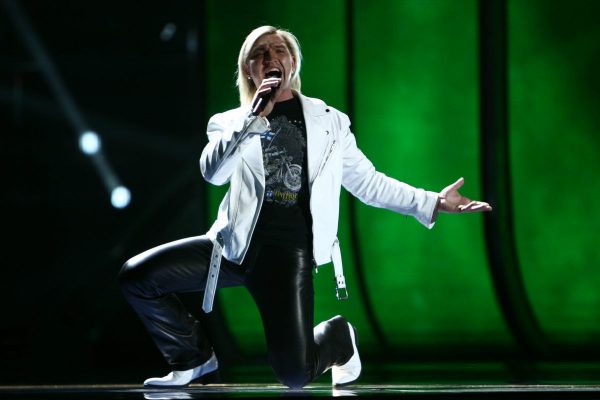 Franko: What I hear you cry. Where is Belgium? Alas they have suffered the same fate as us in the accreditation queue and are stuck. I'm personally hoping that they don't get to the front of the queue…..
Instead Belarus have come on early with what is quite possibly one of the few actual songs this year. And the even better news is that the elephant woman from 2000's Croatian entry is back. Or to be more accurate a woman caught up in an old net curtain who is trying to walk down Smolensk where we live and is being blown about. Our Belorussian singer has a slightly more sensible haircut than in his national final and the song has really grown on. It will certainly be the first bit of cheer on semi final night. Some of the vocals need a bit of work as he's struggling with the high and long notes in much the same way as his colleague is struggling with the curtain. If there's not a mass loo break after/during Belgium and people stick around it might just get a few votes but statistics show that this type of song doesn't really do well in his contest. Who knows what effect the juries will have though…. Good luck to em I say and not a hint of Slavic bias! 🙂
Phil: We hear that there is a riot for Belorussian Ice-cream in the Foyer!!
Roy: The lunacy has started early. The Belorussian press conference has been delayed for the lunch break – so to fill our rumbling bellies the delegation has unloaded pallet after pallet of Elfimov-branded ice cream and curd snack for our instant delight. No, actually, there was more than that. The place is now littered with little Piotr's eyeless face grinning wistfully from discarded lolly sheathes, and half eaten toffee mivvies melting on tables in the humid Moscow spring morning.
Our Catherine, who is attending this sorry event with us for the first time, is already in hog heaven. Oh, and the boy Elkimov seems like a smashing bloke too!