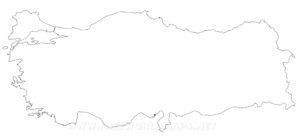 The running order is always an interesting topic of debate. Is there a best spot to perform in if you want to win? Are there truly graveyard slots? Could a good song win wherever it appears in the running order?
Today's birthday girl Şebnem Paker performed in back-to-back contests – so she's part if an elite bunch of acts. And her two appearances in the Saturday night show was first on and second on. That must make her pretty unique. The other noteworthy thing about our Şebnem was her finish in 1997. She was second on – traditionally a very bad draw – and she finished third. When you look at the two songs that beat her, it gives more credence to the argument that any song can win from any position. She scored from three-quarters of the countries voting, and she scored from every country operating televoting that year. Maybe a more widespread televote and she might have finished even higher. As a footnote, she tried again in the Turkish national final in 1998 but didn't win. Had she won, who knows what her last-but-one draw would have done.
Şebnem is 44 today.
Doğum günün kutlu olsun, Şebnem!