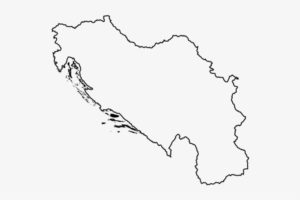 Being on first can be that double-edged sword. You get your performance out of the way (meaning more time at the bar), you get a nice fresh audience, and who knows, people have won from the front before.
Casting your mind back to 1991, it was a very memorable contest for lots of reasons. And those reasons weren't always about the singing. On first was a character from Yugoslavia (remember them?) which was today's birthday girl Беби Дол/Baby Doll (aka Драгана Шарић Тодоровић/Dragana Šarić Todorović). Her song included lots of words that you didn't need to speak Serbo-Croat to understand. What could go wrong? Miss Baby (as she liked to be called) had high hopes and came across as only she could. And her result? Well she didn't finish last, and scored from Malta. That is to say, she scored all her points from Malta. All one of them. But she didn't finish last. And she was a mere five points behind the country ahead of her. Nevertheless, who needs points when the fan community love your song. You'll always be getting the attention. And what is that worth?
Baby Doll is 58 today.
Срећан рођендан/Sretan rođendan/Vse najboljše/Среќен роденден, Беби Дол/Baby Doll!