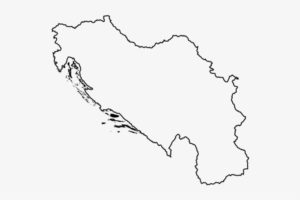 It's important to remember that our favourite TV show started around the middle of the 20th Century – it's not just a thing invented in the 2010s for people to show off posh frocks and much arm waving. And with 20th Century Eurovision came countries – well, country – that no longer exists.
In 1973, today's birthday boy Здравко Чолић/Zdravko Čolić represented Yugoslavia, a country with several languages, alphabets and attitudes. He sang in either Serbo-Croat or Bosnian, depending on your perspective. It was probably a little odd-sounding to the more western European-orientated viewers that predominated in the contest at the time, so good results were hard to come by. Until 1989… Anyway, Zdravko was very enthusiastic in delivery of his song about burning love. Sadly the 32 jurors in Luxembourg making the big decisions didn't agree. But Spain liked him.
Zdravko is 70 today.
Sretan rođendan/Vse najboljše/Срећан рођендан/Среќен роденден, Zdravko/Здравко!