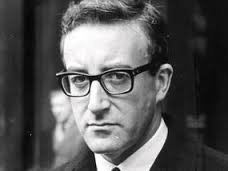 Take a country like, say, Sweden, that has had lots of songs in our favourite TV show. That gives us lots of choice when it comes to birthdays. And I know how much you like songs from Sweden, however good, bad or indifferent they are.
Today's song is indeed from the land of the offset blue and yellow flag, and is perhaps not one of those you immediately think of. That's because it's from before 2001 for starters. The birthday boy sadly died in 2006 and took part in the far distant 1967, when he looked a little like Peter Sellers. Östen Warnerbring was his name, and cut a dash in his turtle neck sweater.
Östen would have been 84 today!