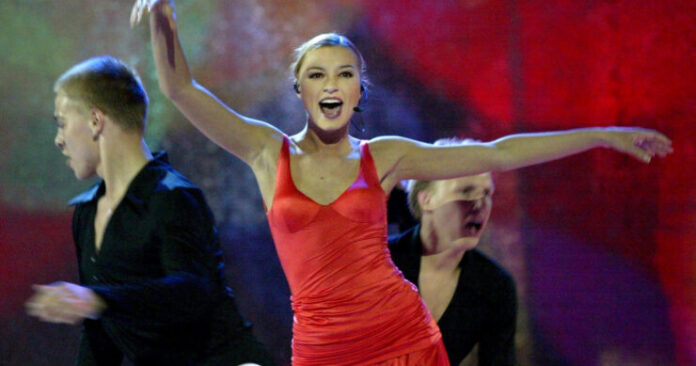 From Wikipedia:
The Eurovision Song Contest 2002 was the 47th edition of the Eurovision Song Contest. It took place on 25 May 2002 at the Saku Suurhall Arena in Tallinn, Estonia.
The contest was won by Latvia's Marie N and her song "I Wanna", which won by a tight margin over Malta's Ira Losco. Third place went to both the United Kingdom and host country Estonia, with France completing the Top five.
There had been worries about whether Estonian broadcaster ETV would be able to fund the event; however, worries were put to rest when a combination of fundraising activities and the Estonian Government enabled them to host the event. The theme implemented for this year's contest was 'a modern fairytale', which was evident in the postcards aired between the songs, which showed classic fairytales ending with Estonian situations.
The show began with 2001 winners Tanel Padar and Dave Benton performing a reprise of their winning entry "Everybody". The hosts for the evening, Annely Peebo and Marko Matvere, gave a performance of "A Little Story in the Music", composed by Raimond Valgre and arranged especially for the event, during the commercial break between the songs from Sweden and Finland.
24 countries competed in the 2002 Contest, which included the top 17 countries from the previous year's contest, alongside the seven returning countries which had been relegated from competing in the 2001 Contest. These countries replaced the bottom six countries from the 2001 contest relegated from taking part.
The total participants had originally been 22, but when the European Broadcasting Union (EBU) increased their participation number for the Contest to 24 this granted Israel and Portugal the opportunity to enter. Portugal declined to enter the Contest due to internal problems in the Portuguese broadcaster RTP. This allowed Latvia (who won the Contest) to enter.
Controversy erupted during the competition over remarks by commentators on Swedish and Belgian TV, both of whom told the audience not to vote for the Israeli singer Sarit Hadad. Hadad received zero points from the Swedish audience but earned two from the Belgians, finishing 12th overall.
Draw
Country
Language
Artist
Song
Place
Points
01
Cyprus
English
One
Gimme
6
85
02
United Kingdom
English
Jessica Garlick
Come back
3
111
03
Austria
English
Manuel Ortega
Say a word
18
26
04
Greece
English
Michalis Rakintzis
S.A.G.A.P.O.
17
27
05
Spain
Spanish, English
Rosa
Europe's living a celebration
7
81
06
Croatia
English
Vesna Pisarović
Everything I want
11
44
07
Russia
English
Prime Minister
Northern girl
10
55
08
Estonia
English
Sahlene
Runaway
3
111
09
Macedonia
Macedonian
Karolina Gočeva
Od nas zavisi
19
25
10
Israel
Hebrew, English
Sarit Hadad
Light a candle
12
37
11
Switzerland
French
Francine Jordi
Dans le jardin de mon âme
22
15
12
Sweden
English
Afro-dite
Never let it go
8
72
13
Finland
English
Laura Voutilainen
Addicted to you
20
24
14
Denmark
English
Malene
Tell me who you are
24
7
15
Bosnia and Herzegovina
Serbian, English
Maja Tatić
Na jastuku za dvoje
13[8]
33
16
Belgium
English
Sergio & The Ladies
Sister
13
33
17
France
French
Sandrine François
Il faut du temps
5
104
18
Germany
English
Corinna May
I can't live without music
21
17
19
Turkey
Turkish, English
Buket Bengisu
& Group Safir
Leylaklar Soldu Kalbinde
16
29
20
Malta
English
Ira Losco
7th Wonder
2
164
21
Romania
English
Monica Anghel
& Marcel Pavel
Tell me why
9
71
22
Slovenia
Slovene
Sestre
Samo ljubezen
13
33
23
Latvia
English
Marie N
I Wanna
1
176
24
Lithuania
English
Aivaras
Happy you
23
12
Image Credits: EBU.