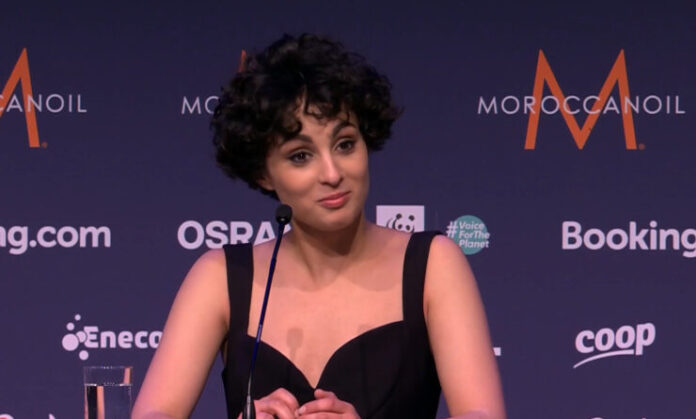 Barbara Pravi will represent France at the Eurovision Song Contest 2021 in Rotterdam with the song 'Voilà'. The song takes inspiration from the chanson française genre and singers like Jacques Brel and Piaf.
We wondered if she looks at her job as bringing a style often loved by older audiences back into the mainstream.
"I'm 28 and I think that's young, right? But I'm not trying to be the voice of a generation with this. Of course the musicality I'm bringing to Eurovision is perhaps seen as … older, and then again, maybe older isn't the right word. I don't think you should put an age on words and music. This is the music I listen to, and that means to me it's not old. It's just music."
Opening doors
The song stands out at Eurovision 2021. Has she struggled in the past to get the attention of the music industry? She nods thoughtfully.
"What I hope is that Eurovision will change how they see me and maybe open some doors and minds . In my small, small career, I've made no concessions, and yet everyone you work with just says you have to make concessions if you want to go on the radio or the TV or even to exist. My journey to Eurovision proves that's just not true. You can be yourself, absolutely yourself doing the music you love and singing the words you want, being the woman you want to be. To be here at Eurovision, the biggest contest in the world shows it's possible."
At the French National Final, Barbara picked up two points from the last French winner Marie Myriam.
"We did a TV show together last week, and she was so lovely. I totally understand my position. She told me how she loves me and my song, but that in her head, it just didn't sound right for Eurovision. And so what? She has the right to say and think that. Everyone may think what they want, and it was brave of her with everyone else on the jury backing me to stand up and say, 'No, this is what I think'. I'm going to send her flowers as soon as I get back home as she's such a sweet lady, and I was so touched by what she said when we worked together."
Paris to host?
With France in the top three with bookmakers, does she have any thoughts about where the Contest might take place if she wins.
Barbara looks to the head of delegation sat to her right and laughs. "It's a hard question, but not so hard, because my heart goes to Paris, of course. I live there and I was born there. But that's not really my choice."