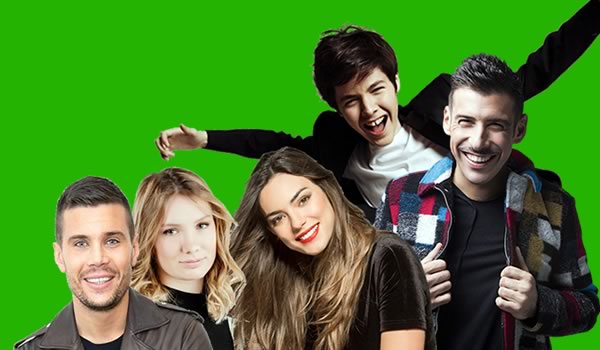 Short answer: we don't know. Even shorter answer: Italy. OnEurope takes ten minutes out from packing for Kiev to examine the clues.
First up, which song are people actually listening to of their own accord? The Class of 2017 has not enjoyed much pre-contest chart success outside their own markets – although Irish crooner Brendan has done better in the Estonian iTunes chart than in his own country. Go figure.
Streaming site Spotify ranks Robin Bengtsson just ahead of Francesco thanks to over 70 million Spotify streams. But Spotify is a Swedish invention and enjoys massive support in its home country, so maybe this isn't the best way to judge.
Eurovision is a TV show, so maybe we should focus on the 'vision' and take a look at YouTube. This is where Francesco rules. Unless you've been sleeping under a rock (and who hasn't at some point in their life?), you will have heard that  'Occidentali's Karma' has become the most streamed Eurovision song of all time. Over 100 million people have watched the official video.
But does this count? Are the streams courtesy of 'normal' people with barely a passing interest in the most important musical event of the year? People intrigued by reports of man and monkey? Let's consult the official Eurovision Song Contest YouTube channel.
Of course, the Italians still have the upper hand, but here their popularity is split over several 'versions' of the song. The highest ranking one being Francesco's national final appearance at Sanremo. It's been seen by almost 7 million people. The closest competition comes from Bengtsson with 3.2 million views and Belgian Blanche whose official music video tempted 2.8 million. That Hungarian prayer thing is also scoring high by the way, so despite me writing it off, it may do well.
Show me the money
The thing about streaming is that it costs very little, it's mostly free to the end user. So let's look next at what happens when people put their money where their mouth is.
The bookmakers have been taking bets since the middle of the national final season – often long before all the songs were known. One song has led from the start. And yes, it's Italy.
With two weeks to go, most bookies are now offering 'odds-on' bets. That means they think annItalian victory is a foregone conclusion.
Bulgaria has made its way into second place with Sweden and Portugal just behind. Early contender Belgium has seen its odds drift.
Fan alert
Fans of course know best. And who better to ask that the official Eurovision Fan Club – the OGAE. Each national 'jury' has been voting Eurovision style and even though there are a handful still to reveal their points, the winner is clear. Almost each chapter voted for Italy. Oh, and hell didn't yet freeze over, they're convinced France will do well.
When push comes to shove
In just a few days, rehearsals start in Kiev and we get our first chance to see who knows how to use the stage and camera. More importantly, we see which delegation has ruined their chances through terrible staging (think Italy, last year). Fan sites offer blow-by-blow accounts along with rehearsal snippets from the official Eurovision website.
This is when the 'experts' make their final predictions. They take every bit of science, every smidgen of gut feeling and sprinkle in some political bias and hey presto, it's time to predict.
Of course, all of the above is based on fact, and when did that ever matter at Eurovision. It's entirely likely that some left of field song blasts through expectation and wins – Portugal anyone?
We'll be doing it too.
But who do you think is going to win right now? Is it Italy's contest to lose? Tell us below.