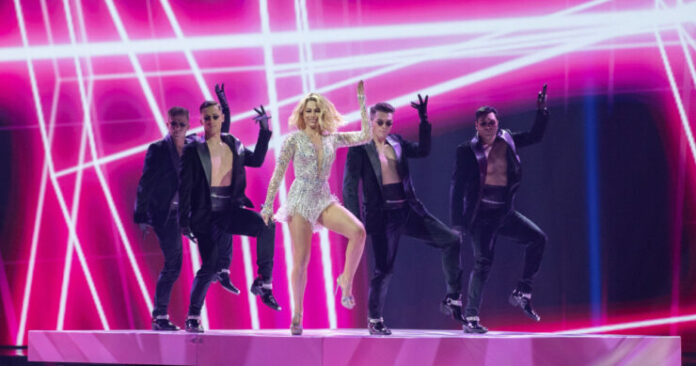 Now we all know that ESC 2021 has been stripped back in many ways, but the whole point of hosting the contest is so Europe can have some fun… and nothing said fun more than Moldova's sugar laden video.
Now that's been stripped away on stage, removing anything that made the song fun and kooky. Reduced to its constituent parts, you get Natalia singing a faux disco/uptempo/80's song quite badly and blandly, with four open-shirted dancers on a revolving stage. Even the background doesn't have anything resembling sugar, and is more akin to something out of 'Tron Legacy' with its geometric shapes and cuboids (and that was a shit film so Lord knows why they'd want to recreate it).
This does not have any of Kirkorov's style or substance. It just places her centre stage revolving on the microwave turntable affair with the boys cavorting and leaving her to the singing. It makes me wonder if the broadcaster saw the preview video and said: "No, we want a TRM production and not a Kirkorov one," and he's left them to it.
The whole effect is underwhelming. We, the assembled press, expected so much more but were left deflated and even robbed of the high note at the end, because she's clearly saving herself. At this rate it will be a one-and-done.