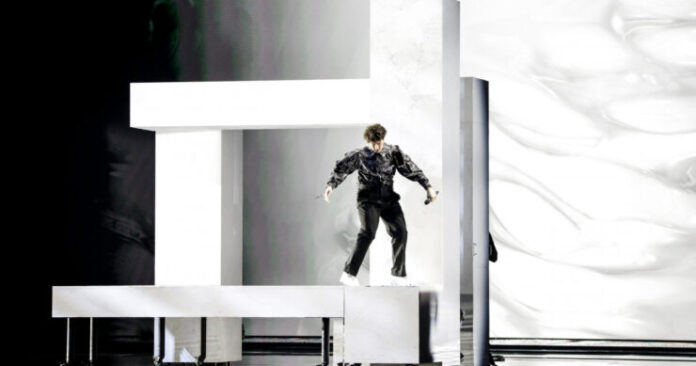 My first, my very first, outpouring after seeing what the Swiss have served up was " What on god's green earth was that?!" – In contrast to Latvia who turned everything down to Gas mark 1, this was on full burners from the start.
There is so much to unpick here, too much arguably, but the first thing I need to say is that I don't like his vocals.  He sounds like a boy soprano in parts and it doesn't match with the look if the entire piece, whatever that is supposed to be.   I understood the preview video concept of him saving himself through the lyrics of the song but that's all gone out of the window to be replaced by him walking around on a slightly wider balance beam in the shape of a box affair and doing gymnastic and/or figure skating expression with his hands.
I'm also not sure on his stage attire.  I get why they went with black, its to compliment the white stage elements, but from wide shots he looks, and how I can put this delicately, out of proportion.  Wait till you see it and you'll understand.  I do like the lightshow at the end which accents the big note which he has hit all the time.
This has been classically overthought.  There are so many elements in this song that SSR have forgotten the most important one of them, the song. The staging is supposed to showcase that and not detract from it (Please note BBC) but now, in my opinion, it looks like a poncey piece of performance art.  Can it win? – Vocally yes, thematically no.