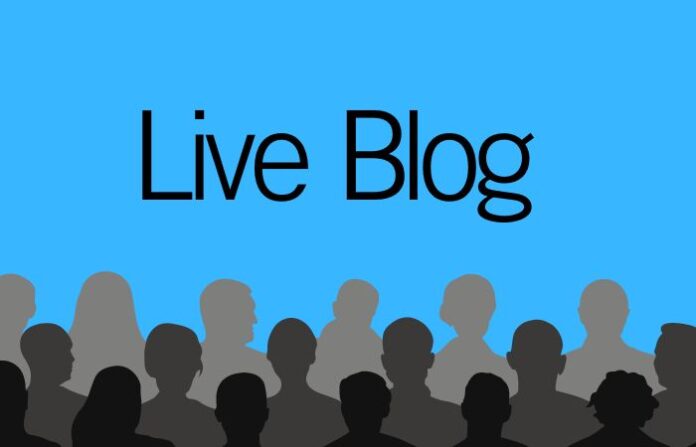 Wed, May 10th, 2023 at 1:30 PM – 4:15 PM BST
We're bringing you all the action as the second semi-final gets its first rehearsal. This is without a full audience, but the 'press' and people working the event are in the hall to cheer the acts on.
May 10, 2023 13:30
ENDED
Latest update 7 months ago
Thanks again for reading along with us
It's been another blast. For me, the second semifinal is way stronger than the first - not something I thought I'd ever say, but maybe it's because there are fewer obvious qualifiers and more to play for.
Although, in the announcement of the mock qualifiers, they named San Marino first, so you never know 🙂
Mr Phil will be along with his thoughts on the 'jury show' this evening. 
In the words of Jessica Garlick, COME BACK.
Sam Ryder last year was lightning in a bottle – an utterly perfect ambassador from start to finish, an astonishingly versatile on-screen talent, and it would be completely unfair and ridiculous to use him as any kind of a benchmark for subsequent entrants.
Mae Muller doesn't live up to Sam Ryder. There's no scope for jury bait vocal gymnastics, there's no obvious room for a rock guitar break, so Mae's got to sell her own song in her own way and trust that it catches. I think it'll catch a bit – I've seen less of Mae's rehearsals so far than almost anyone else, but what I've seen looked visually quite Terry Gilliam-esque, not a bad thing. It's very, very sassy, and it's got enough about it that a few people will leap from their chairs at song 26 and shout "Actually, that's changed my mind – THAT one." I'm after respectability. I hope to get it.
* * *
Yep, I'm happy with the Terry Gilliam comparison. I think she's keeping something in the tank for later in the week, probably quite a lot, and that's completely sensible. Ack, I'm dangerously close to the faint praise zone and that's not what I'm shooting for.
A fair bit of local applause when it became clear Mae Muller was about to take to the stage, so no pressure, then! And then came silence, as this one seems to take a fair bit of time to set up, so you can expect whoever gets to go before them to have a simple to-remove set on Saturday, giving Mae is last to act up.
She starts in silhouette before her HUGE face appears - making it look like she's in the middle of her head. The dancers are all in red mesh tops and black pants and dancing on a platform as the back screen adds to the party. 
Halfway through, she comes downstage and fills a massive stage with just four dancers and her good self. A lot is happening here, and it will make for a polished end to the party moment, leaving us on a high.
Vocally she's in reasonable shape, and it sounds live as opposed to studio-produced, which is no bad thing, but it exposed how much of the song relies on pre-recorded vocals.
To my eyes (and ears), Mae will struggle to get much past the mid-table result we used to only dream of. But that's enough, surely.
What should be the host entry, but there again if it could have been the host entry perhaps Kalush wouldn't have won. Actual Paradox, there! The first one to be selected back in December, and I originally thought it was a solid midtable entry. As everyone else revealed though, I've promoted it – I think it's legit one of the best five things in the contest this year, and if it gets another good result on Saturday it'll be totally on its own merits.
* * *
Having said that... they're going to need some crowd reaction to elevate this. Luckily, etc etc. I'll need to watch that again. Fortunately, etc etc. It's solid and it'll not disappoint anybody.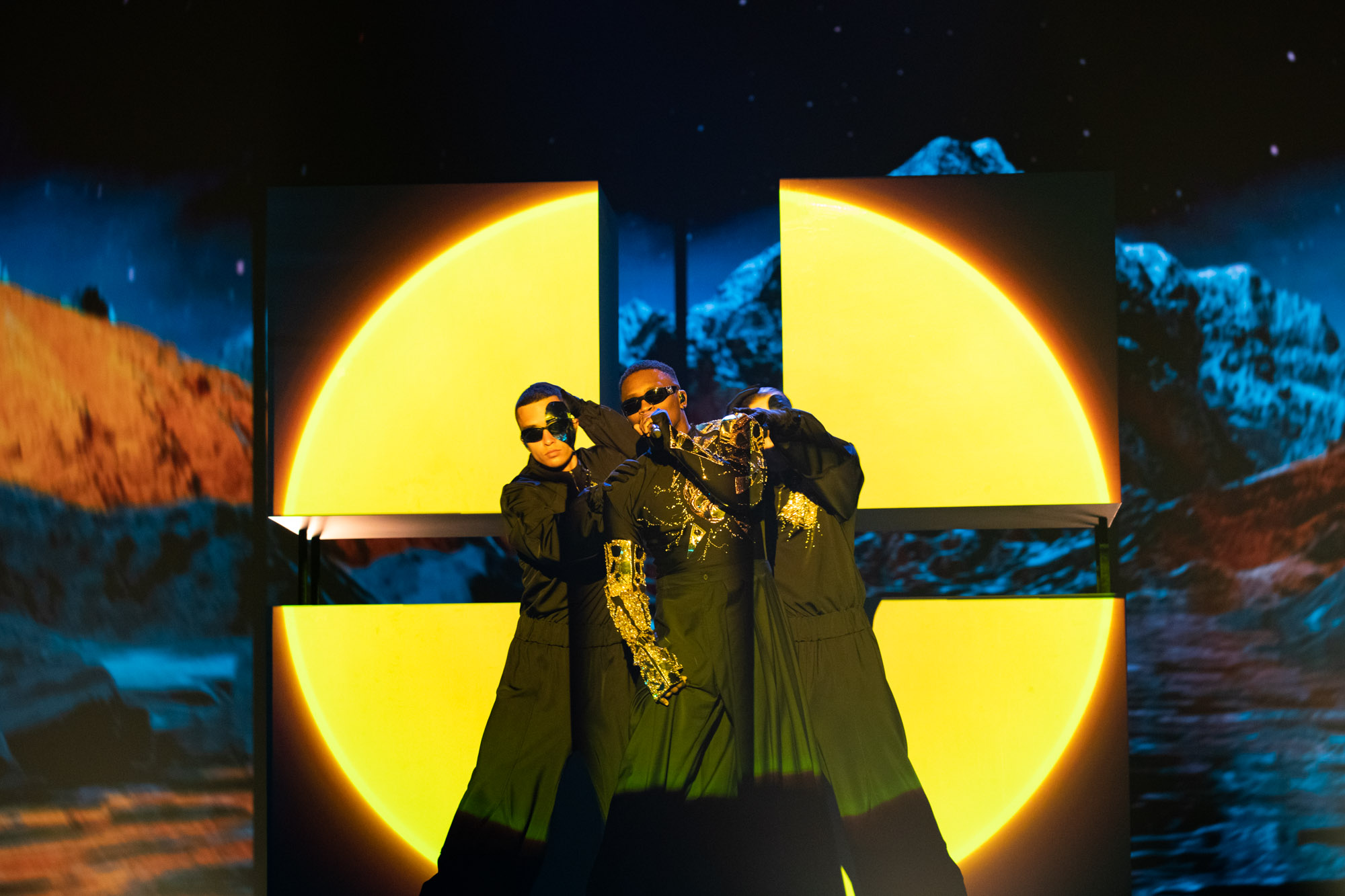 TVORCHI have been to one of those fancy dress shops where you can pick up 'Phantom of the Opera' masks for a fiver and bagged the last two for their backing dancers. Would-be LIPA students will be in tears as I type this.
There's a great use of the LED backing screens and a four-screen box on stage that echoes the effects. 
There will be a certain amount of 'we should vote for Ukraine' going on, but this lacks the emotional pull of 'Stefania' for me. It's a very well-done piece of music, very much in the style of Coolio and his lot. 
You can't deny that the team from Ukraine know how to stage a song, and they're doing themselves proud here. I'm sure it's heading for the left-hand side of the board.
I believe that somewhere deep within Eurovision statute lies a regulation that Spain have to send flamenco every few years. More often than not it's an unwise move – Que Bueno Que Bueno and Quien Maneja Mi Barca got no points at all, Ay Que Deseo didn't fare much better, and Bandido frightened the tape player so much that it didn't want to start. I have higher hopes for Eaea – and I'm not absolutely sure that I should have. There's a lot of tension and drama and Blanca Paloma is a heck of a talent, but it doesn't really get to a point at any stage. Still, it'll make a fine addition to the Missing Vowels round in Only Connect next year.
* * *
That was three minutes of exactly the same thing. Much drama, many flamenco, etc etc. It's - yet again - what they wanted to achieve. I think.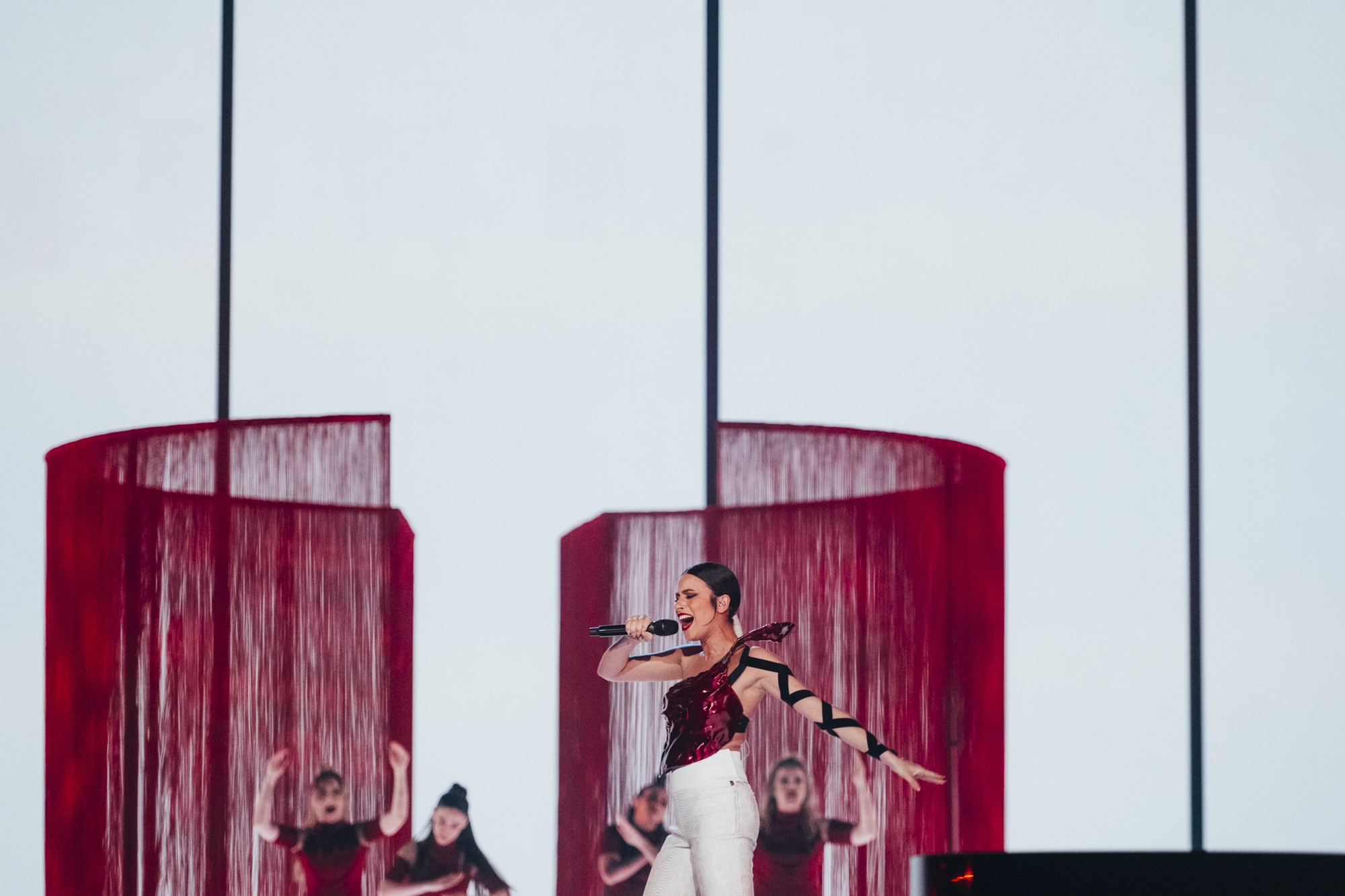 I get how this is 'The Genuine Article', and the performance is spot on, but if you're not big on modern flamenco, it's like nails down a blackboard. If the contest took place in Spain and 'Eaea' was wheeled out as the interval act, we'd talk about it for years. In a contest where you need to grab votes by being accessible, modern and talented, it will struggle, IMHO. I feel confident I've just upset Spanish Fandom, but if it's any help, I loved Chanel.
Drag queens, that daft bit with Mans and kids
There's a rehearsal of a spectacular drag act, that filmed qualified/not qualified thing that didn't really work last night again (I now know the result) and then four kids who get to show us around backstage.
My nan always said children should be seen and not heard, and she may have had a point.
(Apologies if you like kids)
NEXT UP ... Spain
There's all sorts of rehearsal stuff a going on in the hall, but we'll get a look at Spain, Ukraine and UK shortly, so hang around. If anything else interesting happens one of us will let you know. Right now they're setting up for some interval magic.
...that I have inadvertently geopolitically offended Belgium, so I can add that one to my sticker album. Only Spain left now, and that'll be a tough sell as the Spanish are basically unoffendable. The OnEurope day trip from Dusseldorf to Brussels in 2011 legitimately resulted in us being fed waffles and paying over the odds for literally everything and JUST WHEN I THOUGHT I WAS GETTING OVER THE PTSD IT ALL COMES RUSHING BACK.
I'll recover. One day.
EUROPE, AUSTRALIA AND THE REST OF THE WORLD START VOTING NOW
I mean, it's getting to be a mouthful, why not just say start voting now?
It's time for some low-grade filler stuff that seems to involve a conga ahead of the recap video.
Generally, the sections picked are decent - you can at least see Brunette in hers, Belgium really does stand out after the ballad-heavy start. Blanka sounds the most conventional, Iru has picked a bit where she's just wailing and it's followed by Piqued Jacques doing much the same.
I've never done anything like this before, many, many times. I think I've watched this kind of 80s rock cycle in and out of fashion three or four times now, and I've no idea whether it's currently IN or OUT. Staged well though – and Australia are good at that – I think this can justify the producers' faith in it as the show closer. My main quibble is that bringing the song to a grand crescendo, then stopping, then thinking for a second, then muttering "alright"… it might drain a tiny amount of the excitement away?
* * *
Apparently I was misled, and what I in fact have signed up for here is the Voyager arena tour plus 36 guest acts. Really, really enjoyed that one and right at the last second I think they may have stolen the semi-final win from the Austrians. Caveat though - Europe traditionally doesn't like televoting for Australia, because Europe clearly has a blind spot.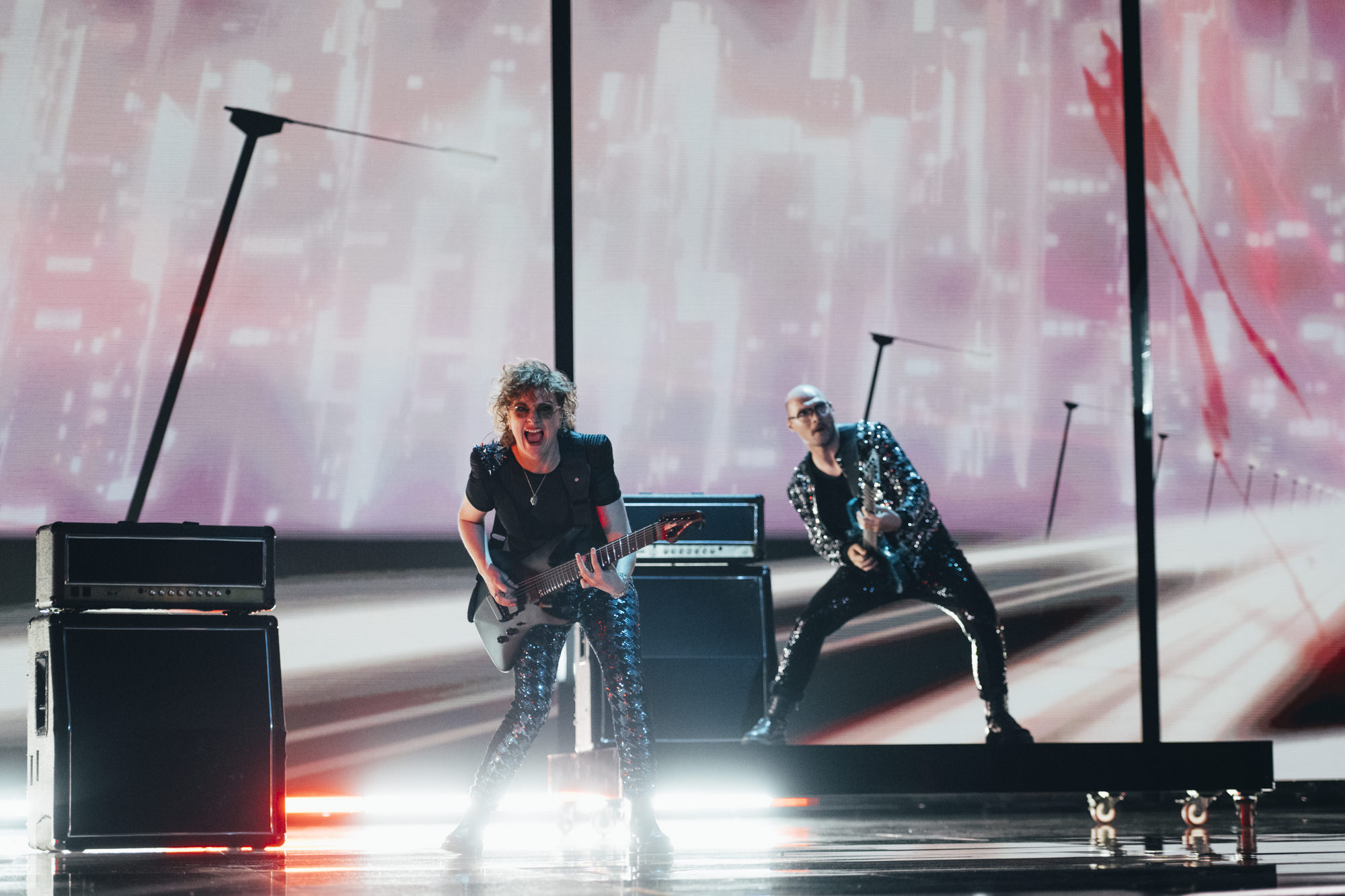 What an excellent last song from Australia – and let's hope it isn't their last go at the contest (their EBU Eurovision contract expires this year). Voyager shows they know their stuff, and they ooze professionalism. The song isn't half bad – but truthfully, they had a much better one last year in the Aussie national final.
The song starts in the driving seat of the kind of car your cousin had when he was sixteen and fancied himself a lady's man. The band is arranged around the stage, and there's a lack of interaction, which seems to be the thing that spoils things in a televoting era. There's some odd camera work going on here. The Aussies like wide shots, cutaways, and a few shots of people getting into place for whatever comes next.
All kudos for the naffness of men with one foot up on the car playing their GEETARS.
An excellent end to the show.
In a surprisingly sparsely populated field, Lithuania accidentally have the standout standard female ballad of the year. I'm not totally and completely sold on it, there are a LOT of other songs out there called Stay – though to be fair, what else were they going to call it? In the final – it'll be there, no question – for all of my personal lukewarmness, I can make a case for this doing a Tamara and unexpectedly being in the lead when the jury vote wraps up.
* * *
It's jury bait of course, which is no help in this bit, but I think plenty of viewers at home are going to be able to get their teeth into that as well. Monika's great, and if there's a rush to normality, this one's hiding in plain sight.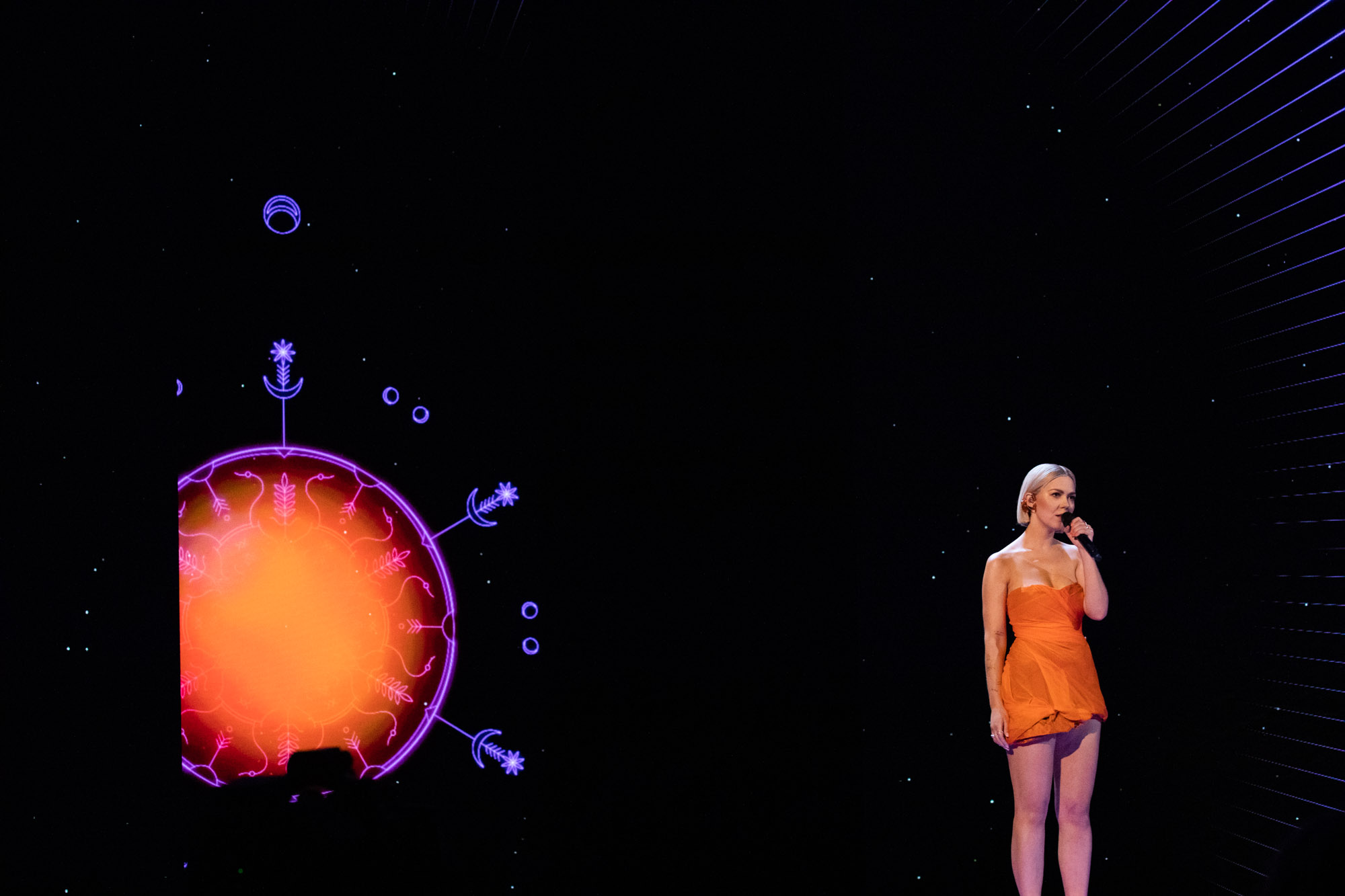 Whilst I've come to like Albina & Familja Kelmendi, I can't say the same for Monika Linkytė, who looks and sounds like something that used to come fifth on the BBC 'Song for Europe' back in the day. 
There's always one that I can't even begin to know how to judge, and it's usually Albania, and it is again. It's a musical heritage that I find really inaccessible – and looking back at their televoting record lately, it tends to be three or four nearby countries that deliver generous points to get them over the line. Very few of those countries are voting tonight. In fact, none of them are, unless you count the discarded reserve jury votes. Very few of them are voting TOMORROW night. I think I got away with that one. Still, some countries are here just to remind the world that they proudly exist, and that's fair enough.
* * *
Even in the staging I feel like I've seen this 750 times before. I'm certain that it's everything that Albania were trying to achieve, and I'm just not the target audience for it.
In contrast to the energy of Austria, the Albanian song is very much what I've come to expect from the country. For one thing, there's plenty of red and black going on. The kind of thing that might have worked well as an opener tonight to transport us away to some other place. It's one of the rare genuine ethnic-sounding songs this year and is even more welcome. But I'm not seeing much of a place for it. It's grown on me since I gave it a big fat zero in my Countdown review, however!
I am resplendent in my bootleg Subwoolfer t-shirt today in the press centre. I mention this because I was trying to find this year's Subwoolfer, and this is they. These. These is it. Look, forgive me here, there was a queue for great writers to be possessed by and I had to settle for bloke who wrote the presenters' script in 2012. Putting my time-traveller hat on, I wasn't immediately sold on this, I thought it was a bit try-hard, but it's a catchy little thing and it's grown on me. Does it, indeed, pay to be funny? Come on. How the HECK would I know?
* * *
For a entry with an outside shot at winning, I'm really underwhelmed by the staging - it's not really delivering on the kookiness or humour from the music video, and the whole point of the package is kookiness and humour. I thought it was a sure bet to win this semi, but it isn't. Qualifying though? Obviously still yes.
If there's any justice in this world, Teya and Salena will sail a steady path between Loreen and Käärijä, picking up televoters and jury points and taking the contest back to Austria. This is such a clever song, an upbeat song, a staging that works.
There's a great use of the back screen to add to their dance move, and they sound fabulous, if a tiny bit shouty at the end.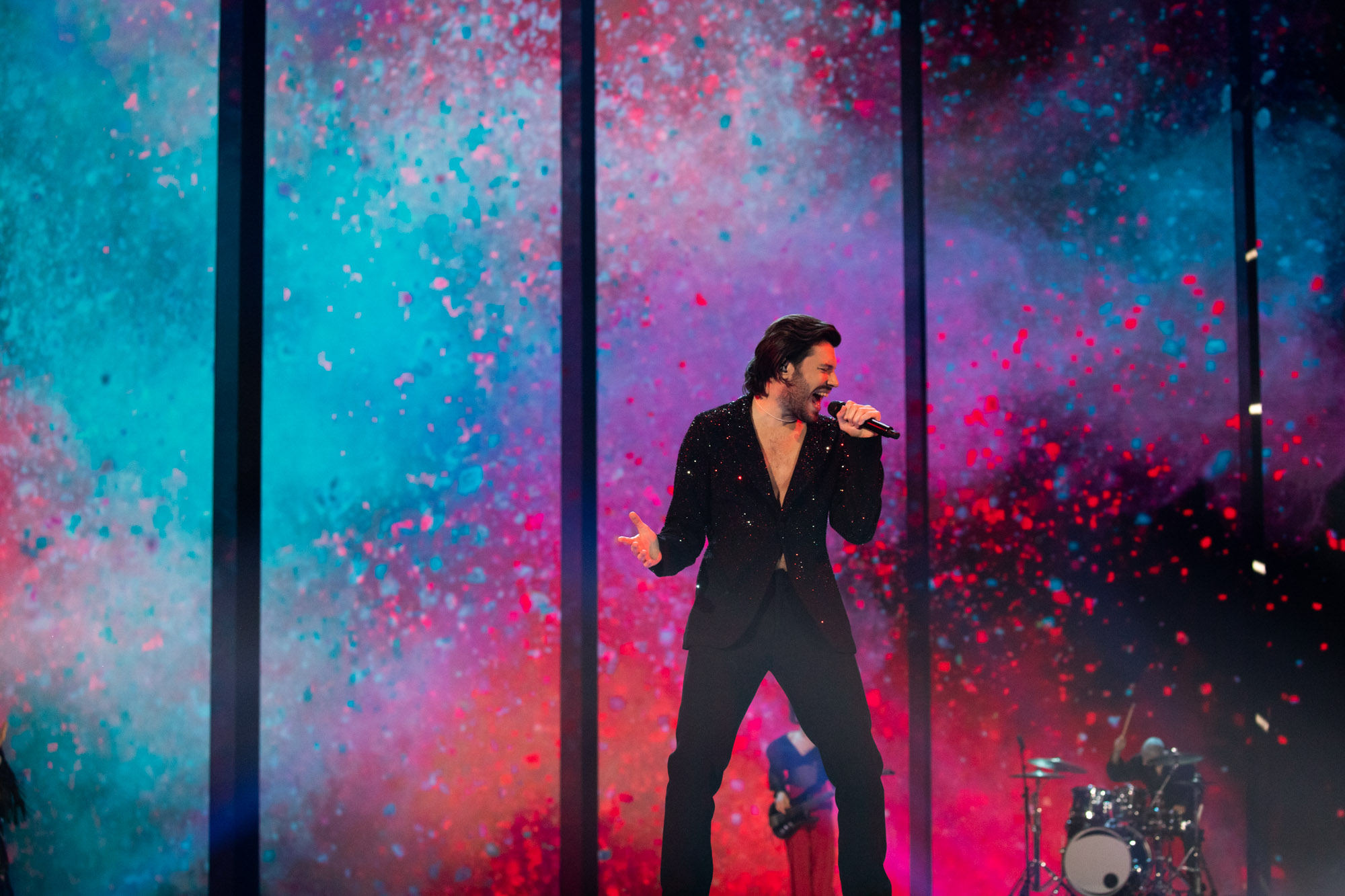 Piqued Jacks still move and sound like a pub band to me, and the song is still creepy as hell.
Remember how Wild Youth looked every shade of wrong yesterday evening? This makes them look like they had everything right. It's a dated red and black staging, with someone looking not unlike your creepy uncle's drinking buddy taking the lead. They're also dressed in black, which means they vanish in some WIDE camera shots. Unlike Joker Out, these lads are spaced out and lack interaction. The pre-recorded backing vocals sound like they were done in someone's bathroom rather than in a lovely warm studio.
It's also one of those 'three songs in one' numbers, but when that last bit starts, you feel there's hope for life yet. It'll soon be over. Come back, Theodore; all is forgiven.
It comes to something when you wish someone could have swallowed their pride and asked Valentina to have another pop at the Eurovision.
See, the thing about San Marino is that you only have to beat the other people in their local selection process, and Piqued Jacks cleared that bar. I feel like they're honest toilers of a band, and they're certainly going to enjoy the biggest stage of their lives, but it's not a competitive song and I don't know if any aspect of the package is really going to be ready for this.
* * *
Definitely not as amateurish as some, I think they've told the BBC that the stage effects and camerawork will need to do a LOT of the heavy lifting for this package and the BBC have delivered enthusiastically on the assignment. It's sung and performed perfectly competently, it's just... not all that good.
An ode to the history of Eurovision while some viewers get to enjoy adverts for washing powder, new cars and a fragrance that will have you beating them off with a shitty stick.
If I were a betting man, I would have backed this at 50/1 for £5 each way to win the contest on the rumours of how good it is, and that bet would now be sitting in the "written off" column of my spreadsheet. You can get plenty longer odds than that now, and it's not getting Georgia's best ever result. What Iru might well do though, is to get Georgia's best RECENT result. As they've not been in the final since 2016, she can certainly do that. I'd love to say something about the song, but I just can't remember anything about it.
* * *
For pity's sake get some folk drummers and folk dancers on to the stage here,  because Iru alone is just not enough and in the panoramic shots (there are many!) she looks utterly utterly lost. This was stageable, it needed to be staged, and it hasn't been.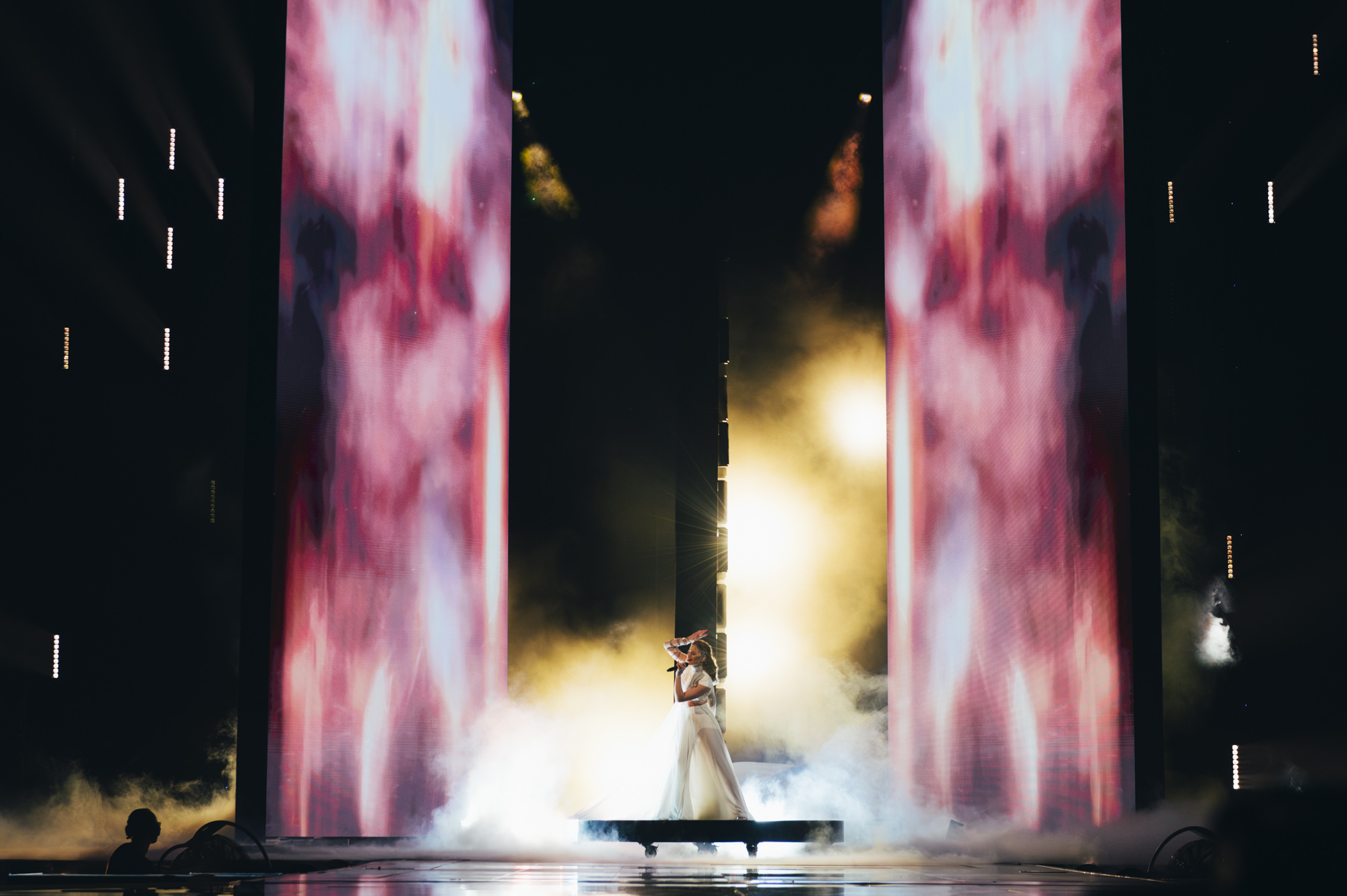 Iru isn't doing it for me in terms of her song. She looks stunning (and super tall), and the staging is spot on, but the song is musical landfill, replete with a mutter-mumble break. A static staging means there's very little going on here, and I'll likely use what feels like at least half an hour as a chance to go boil the kettle and use the facilities tomorrow evening. I suppose Deller loves it.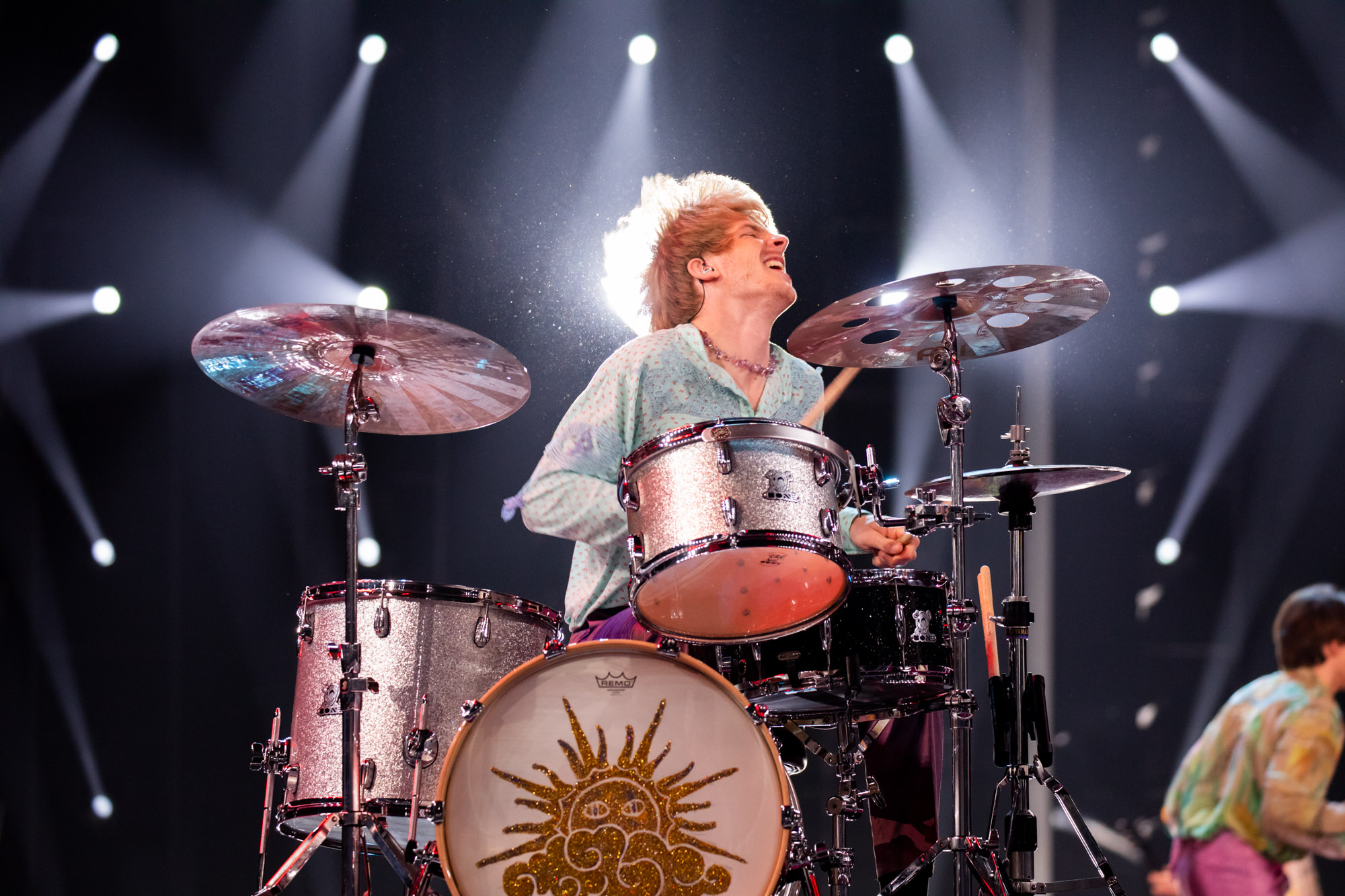 Joker Out have (for me) the strongest song in the show this time. I wish they'd have gone for English to gain maximum exposure from the voting public, but I respect their authenticity.
They're a boy band pretending to play their instruments, which is usually a HUGE red light at Eurovision, but the song is far more engaging than some of the similar set-ups this year. They're no Wild Youth. For one thing, they're together as a group, using one part of the stage and looking like they want to be there and enjoying their three minutes.
This should be in the final shake-up, but after Serbia somehow qualified yesterday evening, I suspect it won't be.
(Whisper) Lads, do this in English and have a word with Rosa Linn about how to spin a career out of not winning
Semi 2 isn't Semi 1. The opposition is different and the voting public is different. However (yes, I am now writing on Wednesday!), if Team Slovenia felt a slight icy chill at about 10:00 last night it'll have been because everybody that's a bit like them got knocked out of the competition. I don't think this is happening tonight – Joker Out are better than their comparable performers, and Carpe Diem is better than their songs. It's a good one to listen to yet it never really sticks in my brain for long, I'll have to wait to see if they've found a staging that will make it lodge.
* * *
Pretty standard issue band at Eurovision, as it turns out. Some nice band interactions, a fair bit of mugging at cameras - I think it's important to them that Europe realises that ThEy Are HAvInG FUn oN STaGE. Definitely a better presentation than any of Tuesday's bands, and I reckon they're going to do alright with that.
From what I can gather, there's a body of opinion in Poland that's extremely unhappy about Blanka being their entrant and casting all manner of nasturtiums about how she won the ticket. Let me say in a loving and, if you like, CARING way that none of that matters a bean now. She's here. She's the Polish entrant. And all Europe will care about is her song which – subject to review when I see it live a little bit later – is a decent breath of sunny feel good fresh air exactly when the show needs it. It's not winning any contests, I'm sure they'll be happy to be in the final – I'll also be happy if they're in the final.
* * *
I think that's a fish-eye lens effect to start, like she's Joy Sarney in Top of the Pops 1977 or something. I'm fine with this, it gets me doing my one dance move which is to turn my head towards the laptop then up, left, and look at the big screen. Is it Ace of Base-like? I'll say no, but it's a sunny three minutes and I appreciated them.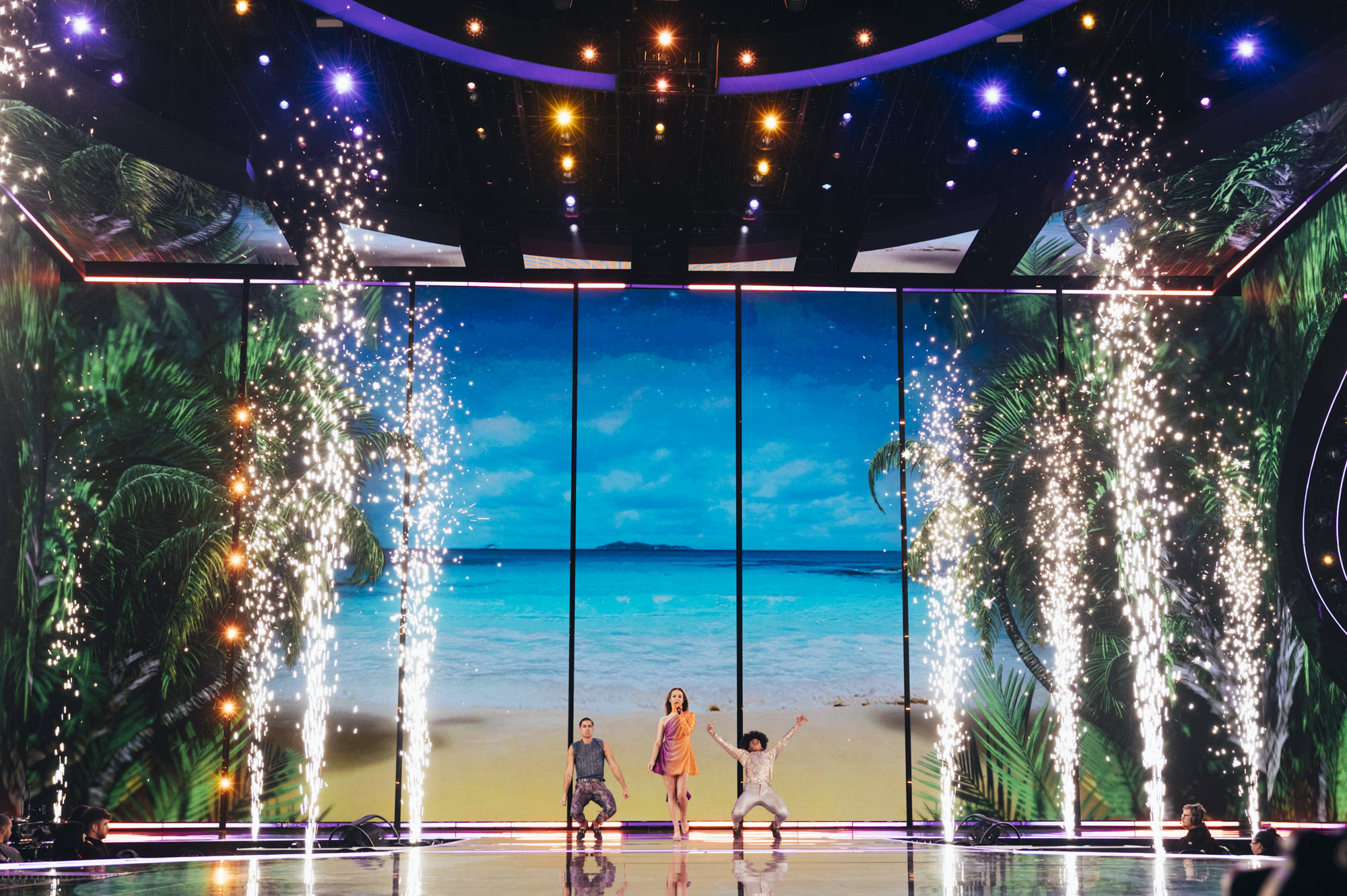 OK, so Blanka isn't the world's greatest singer, and it's a bit of a vanity project to have her give a pop career a go, but the song itself is precisely what this show needed. We've had a few negative numbers and uninspiring staging moments, but she's all fire, sass, and colour – and yeah, the odd (VERY) bum note, but I'm not sure that matters. Seven people have put their songwriting names to this–including Blanka–and mark my words, 'Solo' will annoy you in holiday resort bars all summer.
There's an ill-judged dance break in the middle and she struggles even more vocally to recover after that.
As cheap as this song is, it's going through. 
Victor from Greece has a hard time with the vocals this afternoon. He's crouched on the floor dressed like a boy scout and takes a while to get going. He's on the big screen behind as he jogs on the spot and it's not working for me. Nerves are on full show this afternoon, but let's remember it doesn't matter one little bit how he sings when there's nobody really watching.
What is it with Greece. One year they get the staging spot on. The next, they mess up.
This is a mess up year. The staging completely swallows him and the song's message. He's occasionally invisible, often looking like he's no idea why he agreed to do this, and what should and could have been a powerful message isn't getting through.
Victor Vernicos is extremely young. I think that's the selling point here. Ari Olafsson was also extremely young, from what I remember, and it didn't help. The song has some merit, but the first thirty seconds are a very rough road before you reach the decent bits. I fear that Europe may be put off before they have a chance to be put on.
* * *
You'll have noticed that Mo and I, in different rooms possibly in different cities, are offering the widest possible range of opinions and mostly completely disagreeing with each other. There's always something for everyone here at OnEurope! I think this is a really long three minutes, so I assume that Mo will pop up shortly to say how good it was.
It wasn't a strong Fluffykittens this year. I suppose living up to the standard set by Hatari and Dadi Freyr on an island of 17 people is always going to be challenging. I feel like I could like Power as a song – in the hands of someone like Alessandra it would be a very different proposition, but Dilja's general look and styling seems the most unlikely embodiment of feminine power and it puts me off a bit. Maybe that's the point. I guess.
* * *
OK, I retract again. The styling here is a lot more in keeping with what the song needs - though the song does rely on a couple of phrases which are repeated a bit too much to keep my attention. I think Dilja's doing it justice, whatever happens she'll not be disappointed that she's done all she can.
You know how I said Theodore had given me cause to question the belief some people place in a song? So too, does Diljá. She's a flexible, bendy lass who performs like one of those annoying girls who did gym displays at school to make all the others jealous. The song, however, is so tepid as to be a dirge. Iceland, what happened? You were doing so well.
The stage is dark at the start, with a few green light trees picked out behind her, then the lights rise, and Diljá stands to reveal one of the lesser flattering outfits tonight. I assume that she has an athlete's body; the costumes suggest a pub singer who maxed out on the sausage rolls backstage. The backing screen eventually fills with flowers, which (helpfully) rhyme with p p p p power.
Vocally she's a wobbler this afternoon–but maybe she's getting used to it and holding back.
I'm left hoping RUV have something better to offer next year.
Andrew Lambrou has all the looks of one of those blokes who played a villain in Home and Away for three weeks before meeting a nasty end in the surf. He's all in black and not bothering with a shirt under his waistcoat, which is all to the good.
The song he's brought to the contest isn't the greatest, and he looks so desperately alone on this vast stage. I miss that snotty girl who took offence at his jewellery gift in the promo vid. Here we're made to think he's under a waterfall/passing short, sharp Liverpool shower and then dancing through burning gasoline. There's much of this on the backing track, and being alone on stage makes that obvious.
Had someone thought of creating something more powerful but intimate, we'd be counting him in. Right now, he's one of the also-rans for me. But there's always the twelve from Greece and presumably Australia to push him through.
I just glanced at my other screen to see what's next, and my weary eyes first thought it said "Break a Belgian Heart" but it doesn't. Andrew sings with human emotions about how he can't have his heart broken because it's ALREADY broken so there. Humans are often worried about getting their hearts broken, though as an artificial language model I do not have a heart and many humans prefer the relief they gain from having their emotions remov- OI! CHATGPT! STOP! THAT! RIGHT! NOW! Honestly. Can't get the staff.
* * *
It's not quite Arcade, but it's a perfectly respectable attempt at the genre. Andrew looks good, the camera enjoys being around him, I'm perfectly happy that he copes with the demands the song puts on his vocal range. Pop that on at 23rd to 25th in the final and it's a solid top 10 candidate.
I know you like to know when these happen. Hannah is up with Timur and Graham Norton. Well, she's not; she's with two of the crew making like ...
I have two cardinal rules around Eurovision time. 1) Don't trust a song which had no business winning its national final. B) Don't trust Belgium. Generally. They will feed you waffles and empty your wallets. I feel that Gustaph's writing team went through a process of "Write something British" "OK! What year is it in Britain?" "I don't know, 1989 I think". After that, it was only going to be Simply Red or Jive Bunny, and Jive Bunny breaks the rules of Eurovision by virtue of being a rabbit. So a decent Simply Red pastiche it is.
* * *
This doesn't have the energy of a Mama Sc or a Cha Cha Cha, but planted here in the draw it's a welcome injection of pace and I didn't detect any issues. It's all very pink in this show though. I don't know how much potential it'll have on Saturday, but we will find out.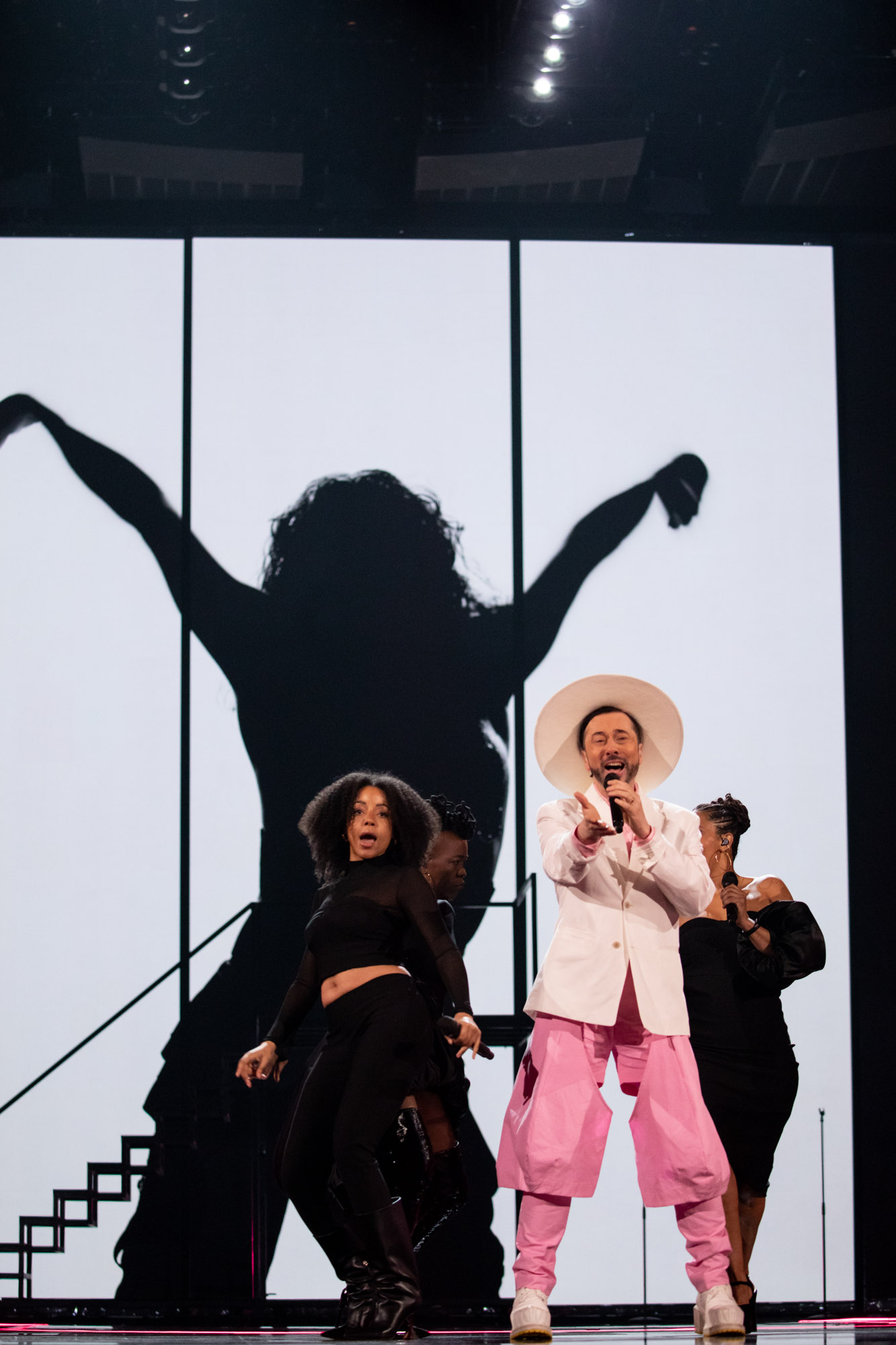 Gustaph has risen through my rankings. He started as a decent performer with a 90s house revivalist song, but the staging for this is truly revolutionary. It's empowering, positive and confident. I'm feeling quite emotional watching how the message gets across and can't help but wish such a positive message was available for the much younger me. I'm a tired old hack, but this is moving stuff. I so want it through to Saturday. And I see it as a surprising top-ten finisher.
After a slow start to the show, this is where the party seems to start, and I'm sure it will play to televoters BIG style. He's in great voice throughout, and whoever staged it (I know I should have this info at my manicured fingertips, but I don't) deserves a MASSIVE hug.
LOVED THIS.
Alika was my tip to topple some champs. The song isn't quite the snooze fest everyone thinks, and it's beautifully written and delivered with panache.
There are a lot of close-up shots of her piano at first before she steps away and takes centre stage in a lovely pale purple frock. The camera likes to focus in on her hands now and then. I'm not sure why. It's not working for me. Maybe she's got a dove up her sleeve or something for tomorrow night. I'm getting obsessed with the close-up magician now.
I will say she looks a tad lonely on the stage, and that distracts from a near-perfect vocal.  I'm also not at all a fan of the shots of her magic piano. It's gimmicky and spoils the atmosphere.
Overall, much as I adore this song, it's really piss-poor staging.
Alika isn't quite fishing the standard female ballad pond alone this year, but it's definitely not as busy a pond as it sometimes is. She wants to build a world of bridges, which is fine but a world of just bridges would be like being trapped in some horrifying Escheresque hellscape where you just continually stumble around the same loop of events over and over again.
GLANCE KNOWINGLY AT REST OF PRESS CENTRE
It's a standard female ballad. It's nice. In this crowd that's probably enough.
* * * (oh, that's where my asterisks went!)
The producers weren't delivered a helpful set of entries for the first half of semi 2 this year, and Armenia/Romania/Estonia as a trio drains a lot of energy from the room to the disadvantage of al three of them. A self-playing piano is a nice touch, but I worry that even the piano it may get bored and break into Roll Out The Barrel. Alika nailed it, I think, but the draw's not helped her.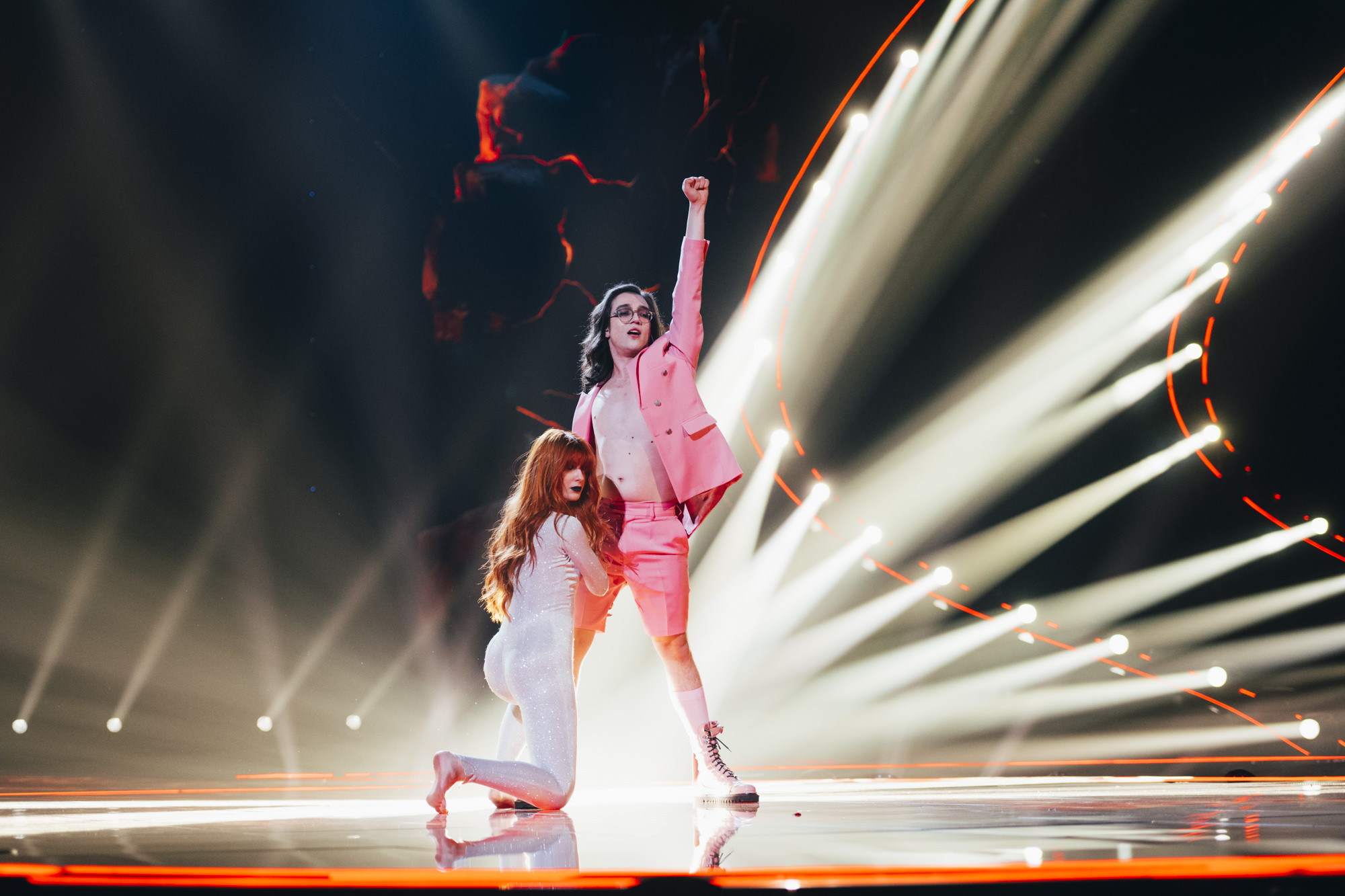 Theodore just isn't doing it for me. Looks-wise, he reminds me of the close-up magician who scared the living shite out of the 4-year-olds at a recent birthday party I attended.
We start with him in pink on a stool with a guitar while many people lie about on the floor–I'm assuming projections. But then he appears on the screens to sing in a lovely white sweater–an effect that tells me, "I'm not even pretending to sing live'.
He's replaced on the screens by two women in oversized night shirts while he carries on pretending to be a rock star. Stage-wise, he's all over the place, bouncing like one of said four-year-olds after eating a whole packet of Starbursts. He's screaming much like a child might when they forget there's a stone step between them and cake and go flying.
Someone must have said 'show flesh' when preparing him for the Eurovision stage. The song remains a mess in my head, and the staging doesn't do anything to make me like him enough. This is possibly the worst thing I've seen at the contest in quite some time.
Romania will win this contest in a rolling five year period which begins next year. I don't think it'll be this year though. I've had several weeks of it coming up on shuffle, and following a thought process of "Oh, this sounds interesting, what is it? Oh, it's Romania". I've not seen anything pictorial to make me think that it's going to look more interesting than it sounds. These are my preconceptions, show me yours!
I wasn't expecting a really stripped back acoustic arrangement for the first verse and chorus and I'm having to really recalibrate on the hoof here. I'll need to listen to that again to form a proper opinion that I'll never post. Still don't think that he's entirely rescued it, but there's more there than I was expecting.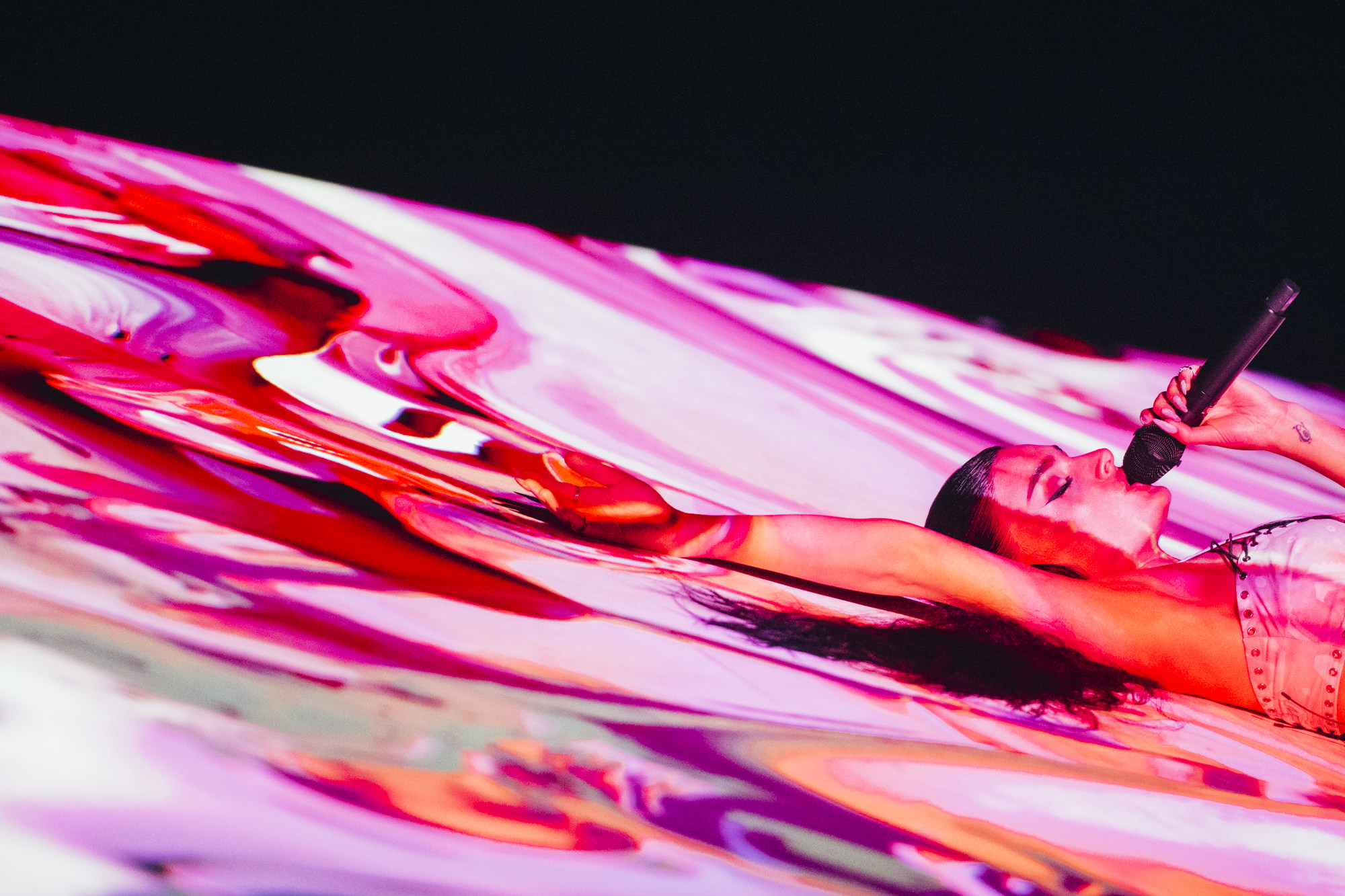 Brunette looks a bit lost in among all the swirly patterns on stage as she starts up – and I'm obsessed by just how many acts are starting their songs lying down this year – it's not a great place to sing from. There's one bit where if you squint, you'd swear Alesha Dixon has decided to have a go at singing instead of hosting. When she sits up and the colours fade, she's often shaded from view completely.
I still think this is one of the more modern-sounding numbers this time out, and I love how it rocks out without warning. Lots of use of lighting again to overlay this effect and her great big silver bells haven't made it to Liverpool (sad face).
There is however a dance break that I've not seen before. The final refrain in Armenian is presented from the middle of the stage in pink light.
Loved it
This is very artistic. Brunette (137) (I'm not adept at guessing people's ages) has set her dating profile to music. Or possibly her shopping list. This is a girl who knows very much what she wants from her future relationship – bookstores, art, being kissed VERY SPECIFICALLY on the face, a dozen eggs, two pints of milk and half a pound of sliced back bacon. As we know in the UK however, what you want from a future relationship doesn't necessarily match the reality of what you get and she may well end up with a pack of Crayolas, a pint of UHT and a preloved bag of Frazzles.
I'm underwhelmed. It's all very pink, and I think at one point she was threatening to steal her future lover's pants, but I'd need to check the lyrics to be sure. OK. I'm willing to be proved wrong, but that didn't impress me much.
Reilley starts out in a pretty blue heart atop stairs and in his silk pink PJs.  He may be targeting a very different fan base than hairy older men like myself. But there's no harm in that. I'd always wondered how this might translate to the stage–it's very much a K-pop style studio song, but someone took a leaf from Rosa Linn's book and thought 'rooms'. It's brightly coloured and makes excellent use of the stage.
There's a hint of holding back on vocals and a huge amount on the backing track.
It's a brilliant way to open the show – and creates quite a different mood to the Tuesday stomper from Norway. Given that there's a fair bit of 'darkness' about this year's contest, Reilley is very welcome.
Reiley's appeal seems to lie squarely with the (admittedly broad) Younger Than Nick demographic, and it's a song that I've come to be more irritated by than admiring of over the course of on-season. The chorus has about three distinct notes in it, and in a singing contest it shouldn't need live autotune to be able to hit them all. It's just fluff – still, to borrow a Woganism, this isn't Beyreuth.
I was unfair there in the pre-paragraph. In the verses Reiley needs to show some vocal chops and he does. I'm slightly in mind of Brooke Scullion last year in the staging, and there's one shot which by now shouldn't still have a very visible cameraman in it. That'll be fixed by Thursday, I can virtually guarantee it.
We open with a VT that isn't ready yet. I love a good placeholder ever since seeing Julia and Hannah's interview with Dustin the Hand on Monday. I can offer no speculation as to what that will turn out to be - but we then immediately are introduced to the hosts to do what I assume will be another standard issue welcome to the show.
Well, what about that thing that happened last night – I don't know about you but I certainly didn't see that one coming!
GLANCE KNOWINGLY TOWARDS CAMERA TWO, BEGIN TO AD-LIB ON SCRIPT PRE-WRITTEN LAST WEEK
Yesterday was an arena experience in the afternoon and it was great! The TV experience in the evening was pretty good as well, although I learned that I have quite a needy television set in my hotel room that needs reassuring once an hour that I'm still watching it otherwise it turns itself off. It's fine, hotel television, I'll NEVER leave you. (Possibly on Sunday).
Back to the same sequence today. Press centre in the afternoon to see the show starting to form, back to the hotel and the online press centre tonight to have good intentions of a brief review of how they performed. If I'm on my standard track, those good intentions will come to nothing.
Liverpool and Manchester remain lovely - mostly damp, but lovely - and although I'm getting mixed results from the signage in the city, the little electronic map in my pocket has yet to accidentally direct me to, for example, the old station house in Irlam. I wish it would, it's a beautifully restored little building from, if I remember it correctly, the 1920s or so, which I've not had a chance to visit since it was first opened. From the train it looks an absolute little smasher.
Do you wanna see me stop talking about railway stations? Do you wanna see me stop talking about railway stations? DO YOU WANNA SEE ME STOP TALKING ABOUT RAILWAY STATIONS? Hahahahaha! Possibly.