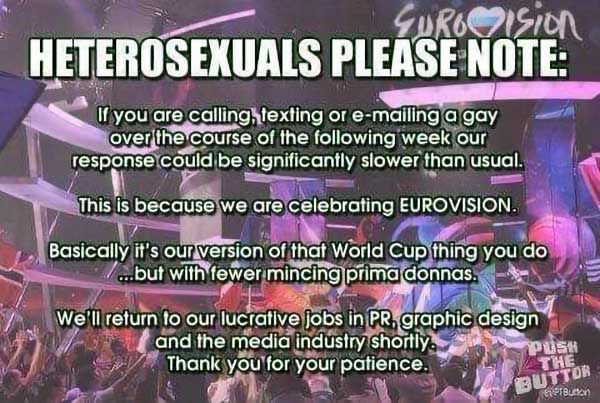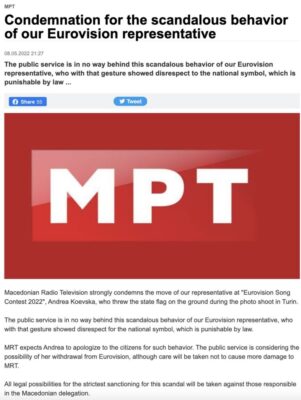 There's been online outrage after North Macedonian broadcaster MPT censured Andrea for 'defiling the flag'. The singer was asked to pose for photographs at yesterday's 'Turquoise Carpet' event (see gallery) and some photographers asked if she could pose without the flag.
She threw it down to someone in her delegation and ever-supportive MPT pounced. A statement rushed online indicated talk of withdrawing from the Contest, echoing equally supportive comments from their press team last year when Vasil's promotional video ran into issues. Andrea quickly apologised (as demanded) and all was forgotten.
It didn't stop (the usual ill-informed) Twitchmobs from forming, calling the country authoritarian, backward and all kind of things that reflected more on those posting xenophobic content than anyone upholding the laws of their country – even if whoever issued the statement likely overstepped their pay grade. It is embarrassing for everyone when a broadcaster shows such a lack of support for their representatives. let's hope MPT avoid making this three times in a row in 2023.
Boys are back in town
Elswhere, Mahmood and BLANCO are enjoying their fair share of unfounded accusations of being party boys who don't care about the Contest. Rumour has it the head of Rai's Eurovision team was sent to have a quiet word. It didn't stop them owning the Turquoise Carpet in front of an enthusiastic home crowd – despite every attempt by Sheldon Riley, Chanel and Ronela who deserve honourable mentions for putting in some effort dress-wise. And Michael Ben David who gets a runners-up gong for not quite hearing the word 'no'.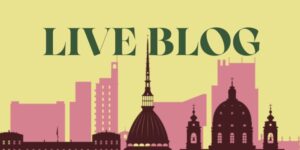 It's the first chance today to watch the first semi-final dress rehearsal and I'll be here live blogging like a good-un. It starts at 2pm UK time. You're welcome to chime in and Tweet along. I'll try to include what I can.
Laters …