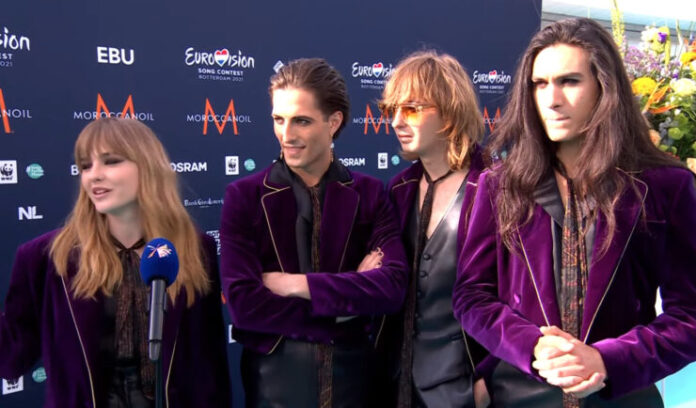 Short answer: we don't know. Even shorter answer: Italy. OnEurope takes ten minutes out from baking a quiche for six people (max).

First up, which song are people actually listening to of their own accord? The Class of 2021 has not enjoyed much pre-contest chart success outside their own markets – although last year, Icelandic Dadi scored a sizeable hit globally with 'Think about things'. And given this year's song is a watered down version, maybe that counts for something.
Blind Channel from Finland are doing reasonable business on iTunes, with 'Dark Side' in the top 200 in 16 different markets. But let's be honest, you don't need to sell that many downloads to hit the chart in some countries.
Streaming site Spotify ranks Italian glam rockers Måneskin just ahead of Ukrainian power folksters Go_A thanks to over 136,000 streams in their homeland.
Eurovision is a TV show, so maybe we should focus on the 'vision' and take a look at YouTube. This is where Måneskin rule. Unless you've been sleeping under a rock (and who hasn't at some point in their life?), you will have heard that  'Zitti E Buoni' has become the most streamed Eurovision song this year. Over 22 million people have watched the official video.
But does this count? Are the streams courtesy of 'normal' people with barely a passing interest in the most important musical event of the year? Let's consult the official Eurovision Song Contest YouTube channel.
Russian Manizha is in pole position with over 12 million views for 'Russian Woman'. She's achieved this thanks to a huge media campaign with interviews in mainstream press and media sites, often embedding the official Eurovision website video. Måneskin have chalked up just 2.3 million through the official channel.
Show me the money
The thing about streaming is that it costs very little, it's mostly free to the end user. So let's look next at what happens when people put their money where their mouth is.
The bookmakers have been taking bets since the middle of the national final season – often long before all the songs were known. This year, it's been an ever-changing leader. Malta, France and Italy took turns with Switzerland to head the list. Gjon's Tears has slipped back a little since the running order went public and Malta moved back into second place.
With two weeks to go, most bookies began offering 'odds-on' bets for Italy, meaning they see an Italian victory as a foregone conclusion. They're also fairly certain Belgian Hooverphonic won't cover themselves in glory with odds of 500/1 on their winning.
Media blitz
In the UK at least, Manizha has scored all the big newspaper sites along with coverage from the BBC. Of late, TIX has crept into view, but there's a sense he's left it too late to score much in the way of attention. Of Måneskin, there's been little heard, despite looking and sounding like media catnip. Destiny hasn't found a way to plug her empowerment message or the 'big voice for an 18 year old' angle. All told, this year hasn't attracted much attention for many names. It's the return of Eurovision itself that stole headlines from those taking part.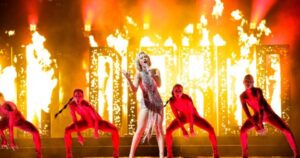 Cypriot devil-worshiping (not really) Elena caused a God-bothering protest in Cyprus, but that happened a while back and has now become the stuff of bemused anecdote.
In the Netherlands, the press went in search of the 'old Dutch sex worker' co-opted by Portuguese group The Black Mamba. It's generated strong local interest and earns them big cheers from the in-hall audience. Stefania from Greece is also Dutch-born and appears in a regular TV soap. This gets her home cheers (and likely the Dutch televote, to add to the Cypriot douze). And then there's the home team. At the jury show, Manizha entered to the audience clapping along … and the post-performance reception went huge.
These reactions when heard by the viewer tend to translate into televotes.
Broadcasters and delegations
Malta wants to win. When two acts before them complained of in-ear issues during the semi-final jury show, they demanded a second go on the stage, even though Destiny had already turned in a perfect performance. When the Grand Final running order was published, their Head of Delegation posted on Facebook accusing the NOS and EBU of playing politics. A post he swiftly deleted. There's no denying the nation would make fabulous hosts and they've been waiting to do this forever. But maybe someone in Valetta needs to keep calm and carry on.
The Italians flounced from Eurovision some years ago, and when Rai was coaxed back, they scored a Big Five slot, guaranteeing a place at the final. With the UK, Spain and Germany going through an extended (very) rough patch and France turning in variable product, Italy looks to be ready for its first trophy this century. The semi-finals air on digital channel Rai4, but this year has seen ratings leap by 30%.
Fan alert
Fans of course know best (natch). And who better to ask that the official Eurovision Fan Club – the OGAE? Each national 'jury' has been voting Eurovision style and the winner is clear. Malta. With Italy well down the field in eighth spot. Oh, and hell didn't yet freeze over in fanovisionland, just like every other year, they're convinced France will do well.
But who do you think is going to win right now? Is it Italy's contest to lose? Tell us below.