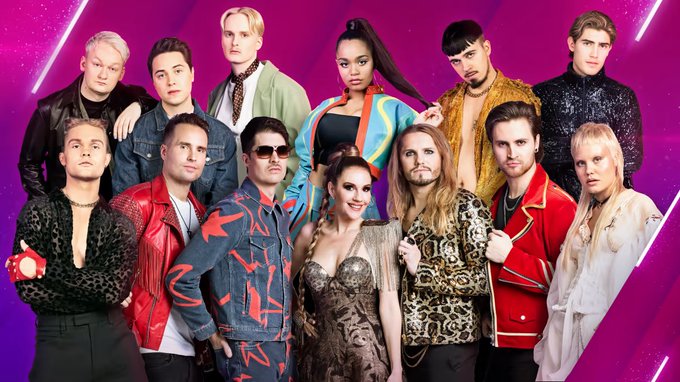 The Finnish broadcaster Yleisradio (Yle) has revealed the running order for the Uuden Musiikin Kilpailu 2023 final, to be held on 25 February.
The national final has earned praise this year, for offering a wide range of styles with a majority of the songs in Finnish. 'Cha Cha Cha' is widely tipped to win, and its popularity may well be behind the rise of Finland in early betting odds from 19th to fifth most likely to win in Liverpool.
Where to watch and listen
UMK 2023 takes place at the Logomo in Turku and will be hosted by Samu Haber. The show will be broadcast on Yle TV1 with a second audio program providing commentary in Finnish by Mikko Silvennoinen, in Swedish by Eva Frantz and Johan Lindroos, in English by Jani Kareinen, in Russian by Levan Tvaltvadze, in Ukrainian by Galyna Sergeyeva, in Finnish Sign Language by Miquel Peltonen, in Northern Sami by Linda Tammela and in Inari Sami by Heli Huovinen. The competition will also be broadcast online at Yle Areena and via radio on YleX, Yle Radio Suomi and with commentary in Swedish on Yle X3M.
| Artist | Song | Songwriter(s) |
| --- | --- | --- |
| Robin Packalen | "Girls Like You" | Joonas Parkkonen, Robin Packalen, Zoë Moss |
| Kuumaa | "Ylivoimainen" | Aarni Soivio, Johannes Brotherus, Jonas Olsson, Jonttu Luhtavaara  |
| Käärijä | "Cha cha cha" | Aleksi Nurmi, Johannes Naukkarinen, Jere Pöyhönen |
| Keira  | "No Business on the Dancefloor" | Axel Ehnström, Jason OK, Teemu Brunila |
| Benjamin | "Hoida mut" | Atso Soivio, Benjamin Peltonen, Iivari Suosalo  |
| Lxandra | "Something to Lose" | Alexandra Lehti, Amy Kuney, Belinda Huang, Minna Koivisto  |
| Portion Boys | "Samaa taivasta katsotaan" | Mikael Forsby, Mikko Tamminen, Raimo Paavola |