If you're anywhere in the north-west of Europe, it's a wet and windy Sunday afternoon and you're still coming down from Super Saturday and SIX new songs for your ESC22 playlist. What better way to end your weekend with a slice of idle gossip.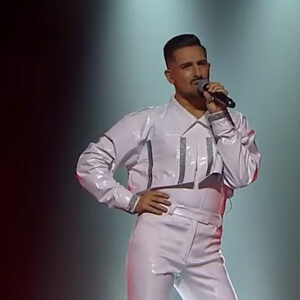 Israel is sending 25-year-old Michael Ben-David with "I.M" Israeli Public Broadcasting Corporation (IPBC/KAN) collaborated with the commercial broadcaster Reshet to find the singer and song for Turin. Ben-David triumphed in X Factor Israel and the song picked by a mix of public and jury voting.
Michael Ben David will perform in the first half of the second semi-final on May 12.
Marvin Dietmann (who worked with many 2021 acts to put together their live on tape performances) will be responsible for the staging in Italy. He's already signed up to perform the same duties for Cyprus.
Revamp
In true Eurovision style, the song is to be revamped, but word reached us today that things are not going quite to plan. Michael isn't happy and is already stamping his handsome foot and suggesting he'll walk. The cause of his upset is a mix of internal politics and unprofessional behaviour from the supporting team.
The three songwriters behind 'I.M' are currently refusing to approve any reworking of the number. And not for any reasons of professional pride, rather this is because the broadcaster has refused to provide sufficient accreditations for the whole team to travel to Turin.
Unsupported
Michael appears to be somewhat at the mercy of those who believe they know best how to stage and present the song. Universal Studios were supposed to assign a personal manager to handle the ups and downs of a temperamental team, but have not done so. This leaves the singer dealing directly with technical and operational problems.
Despite this, Israeli news website Ynet reports Ben-David remains fully behind his Eurovision song, but objects to 'decisions that deprive him of the right to represent Israel with dignity'.
He has made it clear that unless matters improve, he will withdraw from the contest. Given Universal Studios appear to have gone back on their contract, it might be fair to say, he'd be within his rights.

Changing priorities
Let's not forget, Eurovision began as a contest to celebrate songwriting. After the voting, it was the songwriters and composers who picked up the award. The gradual change into a talent showcase where staging matters as much as, if not more than the song has shifted broadcaster priorities. Last year, the writers behind the Israeli song paid their own way to Rotterdam and sat in the audience, not the green room.