Space by Slavko Kalezić
Have you seen this one yet? If not, brace yourself, it's glorious! Slavko is not the kind of artist you could call understated. Even on X Factor Adria where he found fame he burst onto the scene in a sheer top and high heels. They say if you've got it flaunt it and Slavko certainly has it, and wants it, and you wouldn't bet against him getting it. As well as parading around in, but mainly out, of various outrageous costumes, Slavko's sporting a fine line in plaited ponytails. It's an impressive length, and he's whipping it round, about, back and forwards like there's no tomorrow. To be fair, if I had one that big, I'd be doing the same.
The heavily sexualised imagery is justified by the lyrical content, which is gloriously, unabashedly celebratory about shagging. It oozes dodgy metaphor from every pore: wet dreams, explosions, and an invitation to come into him from within. I'm just about to stage a sexual health intervention warning of the risks with barebacking when Slavko reassures us he "has his suit on, no need to worry" which I'm taking to believe means he's all rubbered up. And all this over a fantastic dance beat giving us one of the most ridiculous but unashamedly queer entries in years. I fucking love it!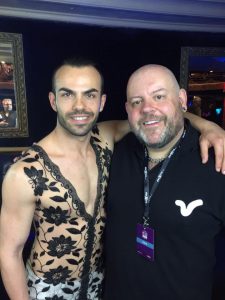 How he fares is probably down to how well it's staged. Live he won't have the ability to cut from carefully shot frame to frame, as the video does so well, and this may expose him. By my calculation there's also not many slots left to play for once we get down to those that are all-but definitely through, but I SO hope this makes it. It's the kind of Eurovision song that needs to be seen in the final, and Slavko's enthusiasm and excitement to be playing the promo circuit (and that's me with him at the London Eurovision Party) is a genuine joy to watch.
My marks – douze points!
https://youtube.com/watch?v=TWtqWD3TlaA