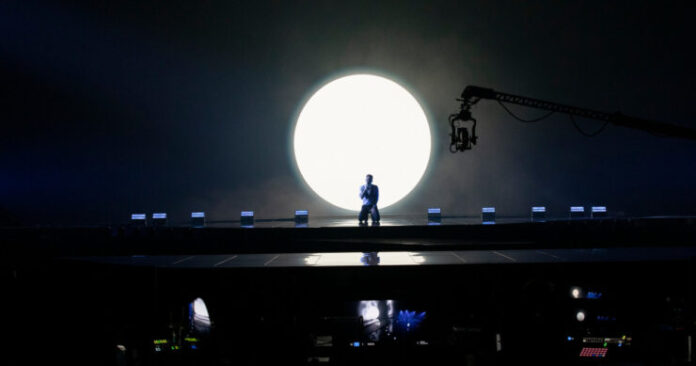 First of all, let me tell you what Uku and his song are.  They are a very well crafted piece of both song writing and performance that has a great backdrop, continues the theme from the preview and has a great singer with piercing eyes that looks bloody good in a nice tight white shirt.
What this isn't, though, is memorable enough. Yes it's a change in gear but like I said on Tuesday, Europe aren't going to be paying attention because "Flo Rida has just got on stage ZOMG what's he doing there – oh what the hell is this?" is going to go on.   That's not a criticism of Uku and the team, that's a fact of him being placed second on.
In his runthroughs today the backing vocal seems to have been lowered (or Uku has been raised) and it definitely sounds better and he seems to connect a lot better with the camera when he does actually look at it but, for me, there are too many wide shots and not enough of Uku emoting at me.  He's going to have to give the performance of his life in order to get through – He has the capability to do this, I'm just not seeing enough to be certain despite it being loads better.
Qualifying?: Maybe.