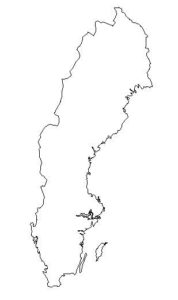 A winner you say? You want a winner? Well, every birthday boy and girl are winners, but there are over 60 acts that have won our favourite TV show's grand prize. and we've got a corker for you today.
If you want a possible contender for Sweden's Mr Eurovision, then today's birthday boy Måns Petter Albert Sahlén Zelmerlöw could be the guy. Once you get past his many forenames, that is. He's done all sorts. Competed in Melodifestivalen, hosted Melodifestivalen, hosted Eurovision: You Decide, hosted the Eurovision Song Contest. Oh, and he won the 2015 Eurovision Song Contest in Vienna. It's an easy one to forget. I jest. In Vienna Måns and his stick-man pal easily won their semi-final, getting 14 maxima from 20 countries. They then went and scored at least four points off every country in the Grand Final. Måns is still doing his stuff as a presenter, and we even saw him in the 2020 Tribute Show. Sweden's Mr Eurovision? Possibly.
Måns is 34 today.
Grattis på födelsedagen, Måns!