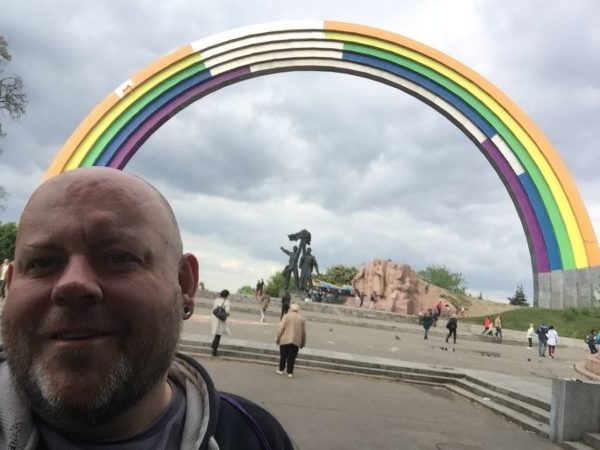 So, it's all over for another year. I'm currently making my way back to the UK from a gloriously sunny Kyiv. Why couldn't we have had this weather for the past few days of grey and drizzle? It caps off an extraordinary Eurovision, which from a fan & blogger perspective has been one of the best in years. No mean feat given that just a few short months ago it promised to be one of the most controversial.
I had fallen in love with Kyiv back in March as I came on a recce for OGAE UK. The British Council & our UK Ambassador in Ukraine wanted to reassure travelling fans that Kyiv would be both safe and fun. I needed little convincing. Within an hour I was charmed by the curious mix of post-Soviet mindset and the modern vibrancy of a city keen to present a new image of itself to the watching world. Everyone I spoke to concurred: hosting is much bigger second time around. Eurovision means something here, along with its opportunities for nation branding.
Coming back was a treat. Despite the difficulties in the build up to the Contest the Ukrainians had, as promised, pulled it all together. Eurovision had survived the mass resignations of most of the organising team, and the story that threatened to overshadow the event – that of the decision to ban Russia's contestant – was but a foot note. It just wasn't discussed by anyone on the ground, save for a brief reflection on how sad it was in a conversation I had with the BBC's Moscow correspondent Steve Rosenberg, who you can understand would want to ask. The whole affair was simply a non-story amongst the fans and the fan media.
A bigger story was the symbolism of the Diversity Arch, the sign of friendship between Ukraine & Russia, painted as a rainbow to reflect the Contest's celebratory slogan. Local LGBT activists were quick to utilise its popularity gaining international coverage of their fight for equality. With so many LGBT fans Eurovision has become a prism through which campaigners can focus further attention, and Kyiv Pride used it to launch their crowdfunding campaign to boost their work. I'd encourage anyone who can to please support it. It's vital that the journey towards equality is led by local groups with an understanding of the right actions and strategies for their country. It was lovely to see local activists here again, and to help facilitate meetings with international journalists to tell their stories.
One of the most memorable moments of the trip for me came not from the Contest itself but from a step outside of the bubble. The day trip to Chernobyl was quite astonishing, getting up close to the reactor, and seeing the newly built sarcophagus that will provide protection from the still radioactive materials inside. But it was the time spent at Pripyat, the abandoned town that once housed the workforce at the plant that will linger longest. The eerie atmosphere of a once thriving town, with apartment blocks, municipal buildings, a school and leisure facilities now empty and dilapidated, as nature reclaims the surroundings is something so poignant to experience. You can only just begin to imagine what those days after the explosion must have been like for families uprooted from their lives, never to return to their homes and belongings. It may be an unlikely tourist attraction, but it is one that really is a must-see for anyone travelling to the area.
Alongside all that we had some songs and a TV show, and a fine selection they were too. I love the steady reveal of performances over the first few days as we see their initial rehearsals and observe how each three minutes in the spotlight comes together. Once more the camaraderie of the press centre was a joy: even more so than the music for me it's the social aspect that really makes the Eurovision experience for me, catching up with old friends, meeting new ones, both in the accredited zones and more generally in the city. My stock response to what draws me to attend the live shows is that it's like being on holiday with a couple of hundred friends, and it really is. I treasure the time spent with my Eurovision chums; everyone makes it such a fun event.
Thanks and credit to all the team on the ground from the EBU and the host broadcaster. Against many expectations they delivered a great event with enthusiasm and professionalism. A special thank you to the volunteers who were exceptionally friendly and helpful. You did your city and your country very proud, and it's not gone unnoticed.
I'm dying to get back and pop the TV in to see how it all looks on screen. It seems to be a great spectacle. Memorable for me is my 'starring moment' dancing in the middle of Belarus's semi final performance, as well as almost being crushed to death in the madcap Verka Serduchka stampede during the voting segment. I only just caught the streaker as he was being dragged off stage, I hadn't realised he'd mooned though as he was dragged out by security right past me I did notice that his pants were down. Shame it wasn't a nicer arse, frankly.
And so the big favourite from the moment it won San Remo wasn't able to replicate that victory at Eurovision. It was the song I've most heavily emotionally invested in for years; I have my favourites but I tend not to mind what wins. This was different though, I was really pulling for Francesco. Still, we have the song forever, and can now switch back to the glorious full length version rather than the Contest edit. I'm astonished by the Moldovan result, although I called this as a fun entry from the start. The simple happiness it conveyed was clearly infectious. I'm pleased that Belgium got the recognition the sing deserved and that Blanche finally found some mettle, lifted by the love of the crowd. I'm disappointed that Armenia polled so low, as I called this as a top 5 in my Serviette of Doom predictions before the final. And I'm pleased with the UK's result, precisely where I called it. A stunning performance of a mediocre song by Lucie, who seems to have enjoyed every moment.
So, Portugal, eh? Something we thought might never happen. Salvador's song captured so many imaginations from the moment he appeared in the Festival da Cançao, and the victory is so sweet after years of doing their own thing with scarcely a nod to what the rest of Europe might actually want to hear. I'm so pleased to have been there in person to witness Salvador win both the national and international competitions. Lisbon is a dream Eurovision location, something you'll know I've longed for if you followed my Countdown this year. I'm tempted to have a whole month off and just decamp there for an extended stay. With Italy out of contention, I really couldn't have asked for a better conclusion to this year's show.
So, time to hang up the gorilla costume, stow away the bi-directional treadmills and stop yodelling up the cannons of love for another year. I hope you've enjoyed it with us, and thanks everyone for reading. See you next year in bloodyfucking Portugal! I've not just dreamt it, have I?
"Hello, is that Lisbon? Get in extra cachaça for the caipirinhas…"
Monty x