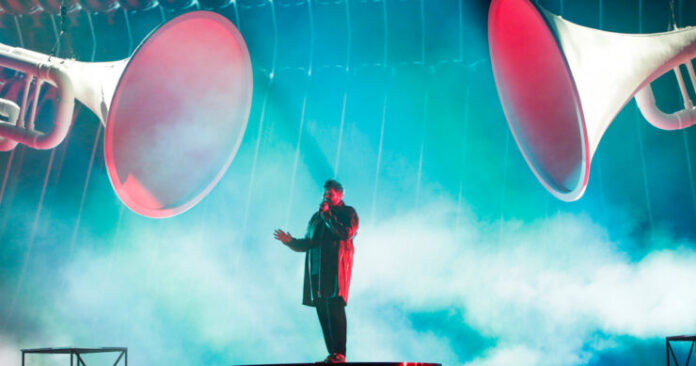 United Kingdom. My home entry. After 14 months of waiting what can James Newman bring to the Eurovision stage?
Erm, enormous great trumpets apparently. I mean huge! About 10 metres long, and they descend from the ceiling.
James is on a plinth, in a long leather jacket. It's thankfully quite stylish, not the length or style worn by Herr Flick of the Gestapo in 'Allo 'Allo. He sings, he climbs down, he has a few dance steps but not as many as he's teased us with.
Four backing dancers mime playing trumpets and other brass instruments, clad in white. They dance, some climb on the plinth, and at the end a couple of them have scaled the giant trumpets. In the bridge a spin of lasers spots form a kind of half-hearted Sanna Nielsen light cage around James.
I like this. It's quite a simple staging but I think it conveys the energy of the song quite nicely. I'm not sure about the giant trumpets though. They seem like a good idea but only descend to stage level and play nothing more than a decorative role. If you've gone to all that trouble, I expected them to do something more.
There's a lot of dancing, props and special effects going on in this show this year. Yes, this has some too, but it is otherwise quite straightforward and is a happy song. Will that be enough to pick up some votes? Or will it fade against some of the more striking presentations.
I'm happy with it though. It's the first home entry for some time that I really think is up to par.
Monty x