See all of our on-the-spot reports from Oslo
The Eurovision Song Contest 2010 was the 55th annual Eurovision Song Contest, broadcast from the Telenor Arena in Bærum, Greater Oslo, Norway. Norway gained the rights to host the contest after achieving a record breaking victory in Moscow the previous year. It was the third time Norway had hosted the contest, having previously done so in 1986 and 1996. The 2010 winner was Germany with Lena singing "Satellite", written by American Julie Frost and Denmark's John Gordon. It was Germany's first win in twenty-eight years, its second since the Contest's inception, and its first win as a unified country. It was also the first time a "Big Four" country won the contest since the rule's introduction in 2000.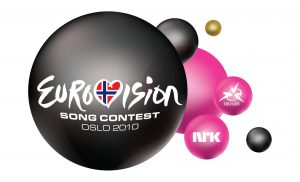 The semi-finals took place on 25 and 27 May 2010 while the final was scheduled for 29 May 2010. The European Broadcasting Union (EBU) announced that the voting system used in the semi-finals would change from previous years to balance jury voting with televoting. A return of accompaniment by orchestra was also proposed, but did not happen.
Thirty-nine countries took part in the contest, with Georgia returning after a one-year hiatus, and Andorra, the Czech Republic, Hungary, and Montenegro withdrawing.Lithuania originally announced its withdrawal from the competition, but was later among the 39 participants confirmed by the EBU. A global financial crisis affected how the event was run; several countries elected not to compete due to budget cuts, and host broadcaster NRK sold its broadcast rights for the 2010 FIFA World Cup to TV2 and Viasat to finance the event.
(From Wikipedia)