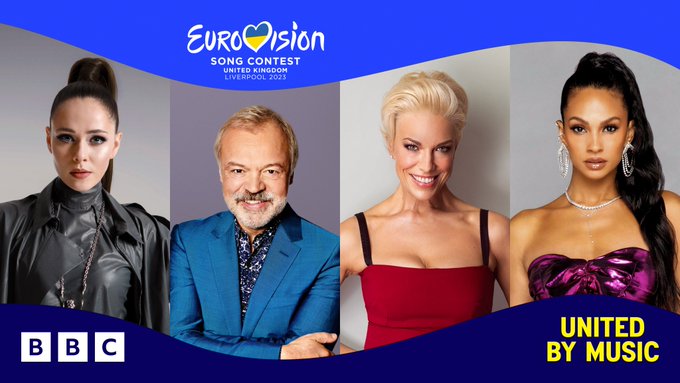 The BBC has announced the full Eurovision presenting and commentary line-up for Liverpool 2023.
Presenting the Grand Final will be Graham Norton, Ukrainian singer, Julia Sanina, actress, Hannah Waddingham, and Alesha Dixon. The semi-finals will be in much the same hands, although Norton will be at home with his feet up.
Julia Sanina is on The One Show tonight for her first BBC interview.
Shoulder-to-shoulder
"There's something really special about Eurovision which is why I've been an avid fan for years – from the camaraderie of all the acts backstage, to the epic scale of the show," Waddingham said. "It's one of the world's greatest music festivals, but this year, perhaps more than ever, it is such a great honour to be standing shoulder to shoulder with Ukraine."
Sanina said: "I am very honoured to host Eurovision 2023. And I'm sure that even during the war, we will demonstrate our beautiful culture at the highest level."
Alesha Dixon said: "There is just something about the buzz and anticipation of a live show that can't be rivalled. Eurovision delivers that excitement, creativity and talent, but on a vast, global scale".
Commentary box
Timur Miroshnychenko – who hosted Eurovision in Ukraine in 2017 – will be the Eurovision Correspondent in Liverpool, appearing throughout the shows and giving live insights from Ukraine's commentary box in the Liverpool Arena.
Graham Norton and actress and comedian Mel Giedroyc will take turns in the Grand Final commentary box. Scott Mills and Rylan will take their regular spot for the semi-finals. For the first (and let's face it probably only) time, the semi-finals will air on BBC1 as well as being made available through iPlayer.
Anyone got an opinion (Twitter has plenty to say).