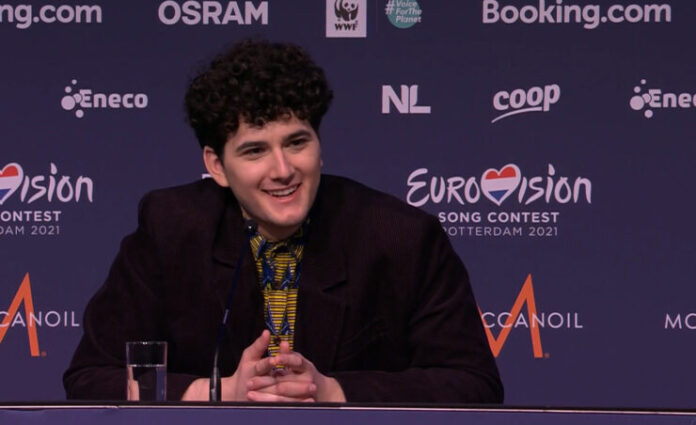 Gjon Muharremaj, from Broc in the Swiss Canton of Fribourg, has devoted his heart and soul to music since childhood. Moving his grandpa to tears with his version of Elvis Presley's 'Can't Help Falling in Love' as a nine-year-old became a formative event and the inspiration for his stage name: Gjon's Tears.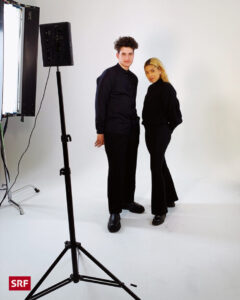 We sat down with Gjon and creative director Sacha Jean-Baptiste as he came off stage following a second rehearsal this afternoon.
"Today I felt much more comfortable and happy we got to change what I wanted to change. Being guided by Sacha is always a pleasure and I already see big differences between the first and second performance," Gjon said, with a glance at his creative director. "But there's always things to rework."
She nods agreement. "We have a performance that requires a lot of help from the production crew. First time on stage you need to stand back and look at how it builds out. Today, we got to fine tune things like the lighting to show Gjon's beautiful face and capture the drama of his performance."
We wanted to know more about what lies behind the concept of Gjon standing on a plinth breaking apart and traveling around the stage.
The circle of life
"The main theme of our three minutes is the circle of life," Gjon says. "We wanted to get that across and the first thing Sacha did was track down props."
She steps in to reveal more. "When Gjon is on stage, we have the contrast between something hard and bombastic and structured and the softness of having a person set inside. We get to play with the lights and pull everything apart so what looks like an ending could as easily be the start."
According to the official bio, it was Gjon's grandfather who signed him up for Albania's Got Talent. Aged 12, he came third. A year later, he reached the semi-finals in the Swiss equivalent and again in the French talent show The Voice France in 2019.
"The most important thing about performing for me is being able to express what's inside," Gjon says. "I've always been guided by melody. My grandfather told me to listen to great singers like Whitney or Celine… and that's why I tell everyone I served my apprenticeship under Celine Dion. Right there in my bedroom."
Song or show?
Swiss Eurovision veteran, the late Lys Assia bemoaned the way Eurovision has changed. These days, she said it's less about the song and more about the show. Does he agree?
"How you express yourself on stage always matters. Some people dance, some sing or paint. My way has always been melody. When I first did all those TV talent shows, people said I was a good singer, but I wasn't an artist. I was too young to unmderstand what I wanted to do or what I wanted to be. I still am. I can't say if I'm a singer or a composer or someone who puts on a show. Right now, I'm invested in the song and the performance I've created with Sacha. I disagree with the suggestion the song no longer matters. It all matters. It's all someone's art."
Music has always been his top priority and Eurovision certainly won't be the last we hear from Gjon, even though he jokes about how in five years time, everybody will have forgotten his name.
"My voice isn't the gift," he says, warming to a theme he clearly believes with a passion. "The gift is what lies inside. What we all need to do is find our calling. There's no difference between saying you want to go on the stage or that you want be a banker. For me, I wanted to perform and everyone needs to listen to their heart. Right now, being on stage is everything I wanted, and it's the place where I get to be proudest of myself. People should try everything they want in their lives. Don't get to 60 or 70 and turn back with regrets. The time is now."
Free language
'Tout l'univers' is the first time in a while we've had a Swiss Eurovision song in one of the languages spoken in the Contest. Is he in favour of more?
"I want to bring attention to Switzerland, sure, and yeah, I'm happy if people sing in Swiss German, Swiss French, Swiss Italian or Romansch, but I hope the artists who take part in Eurovision get to trust their feelings and make their choice. If they want to sing in English, that's cool. This is a choice. I choose to sing in French, but maybe others want to sing in English. I wouldn't support forcing anyone to sing in any language. I hope that whoever follows me onto the Eurovision stage for Switzerland gets to choose their language."