Stefania Liberakakis is singing 'Last dance' for Greece. She was born and raised in the Netherlands, and already stood on the Junior Eurovision stage representing the Netherlands in 2016.
She's the youngest contestant this year. For anybody else that might pile on the pressure.
Stefania shakes her head and grins. "Can I be honest with you?" she says. "I'm just here to enjoy myself. I'm an eighteen-year-old who acts like a fifteen-year-old kid and lots of people are asking me if I worry about the pressure, and the answer's no. The people around me are so great. If I'm not comfortable with something, they make a change. I know this sounds corny, but I really am living my dream here."
Let's talk staging
The design for 'Last dance' comes from the mind of acclaimed Greek director Fokas Evagelinos.
"It's one of the most difficult he's ever done," she explains. "But today (second rehearsal) was good. We came off stage and said yes, this is what we wanted it to be. We're taking a risk, or rather Fokas is taking risks for us, but we have the best dancers and amazing people around us. I watched the playback, and I was like: what? am I that girl?"
Some of the fan sites worried there might be further work to do.
She waves away their concerns with another trademark happy smile. "Nobody has really seen how this looks on their TV sets and when they do, they'll be like 'OK, so maybe Greece after all!'."
The team get three more chances to rehearse before the semifinal goes live. Stefania is taking part in the second semi-final of the Eurovision Song Contest on Thursday, 20 May 2021.
"Yeah, well, there are objects we have to work with and they're difficult sometimes. The dancers have enough to do, but I also need to focus on my singing and making sure I stand in all the right places. We're practicing every day, even in the hotel."
And that dress?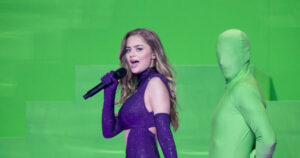 "It's my dream outfit and when I'm wearing that – don't laugh – but I feel like Jennifer Lopez. With the boys in white and me in purple, we match really well. Greece certainly brings you a colourful performance."
Aged ten, Stefania nagged her parents to let her apply to the Dutch version of "The Voice Kids" and fresh from there, she joined the Dutch children's choir Kinderen voor Kinderen. Eurovision beckoned in 2016 when she was part of the girl group Kisses. We wondered what makes her Dutch and what makes her Greek.
"Good question…" she thinks for a moment. "OK, so I'm Dutch because I love going out shopping and looking at lots of things but never buying them. We want to see what's available, and then we go home and buy online. But what makes me Greek is I'm really open and if I run into friends in the street, I'll invite them over for dinner. That's kinda casual. That's what the Greeks are like."
"Eurovision sort of woke up my Greek self. I was missing out on something. It's so cool to be standing on the stage in a country where I was born and brought up , where my friends and family live, but singing for my fatherland. And I can understand everything anybody says backstage."
What if the Dutch were to ask …
So would she ever sing for The Netherlands if the call came?
Stefania allowed herself to get flustered for the first time and glanced around. "Everyone has asked me that and I need to be so careful how I answer." She took a deep breath. "Look, Eurovision is my dream. It's so great for anyone to be here like I am…" She throws up her hands and laughs "I'll sing for anyone. I don't care. I'll never say no … Russia, Denmark … But right now my heart is with Greece."
The BBC might like to make certain they get Stefania's number.