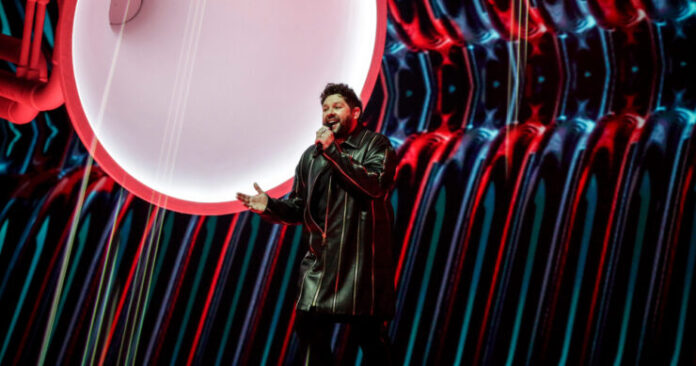 This year, the BBC has stepped back from picking UK song and artist and handed it over to BMG who stuck with their 2020 option and asked James Newman to write a new song. He came up with a shortlist of fifteen, and chose 'Embers' – thinking it appropriately upbeat, given the year we've all had. And let's face it, who needs a song about breathing your last in the midst of a respiratory illness pandemic?
The question in the Press Centre was: Has the BBC have upped their game enough to evade the right-hand side of the scoreboard?
James starts the song on a black podium, dressed like someone who might get you a decent price on a Fiat Punto with one careful owner; a look emphasised by his shapeless leather jacket and gold chain. Four dancers in white enter carrying trumpets they'll later pretend to play and two HUGE trumpets hover to the left and right. They later descend – and I thought they looked better settled on the stage. The backdrop explodes in colour (there's a lot of ember red) with banks of lighting kicking in for the chorus. As a look, it works for me.
The song is absolutely a substantial leap forward for the UK. It actually doesn't sound like something created for Eurovision. Having backing vocals on tape is another plus, as it's freed us from the burden of division two session singers.
The choreography has been kept clean and avoids dragging Newman into awkward dad dancing territory. In fact, he looks to be having a grand old time, seizing all the right camera shots. His vocals seemed fairly steady, though even a kind man would allow room for improvement.
---
The Fanning Verdict
The overall impression I have is of efficiency. Newman is here to do a job, and he's going to do it. It lacks the Eurovision gloss that the BBC ladles on and that's a plus. I do think we might be looking at a more mid-table finish this time out. But everything depends on where it sits in the running and what's on either side. If picked for the first half, it's a brilliant show opener.