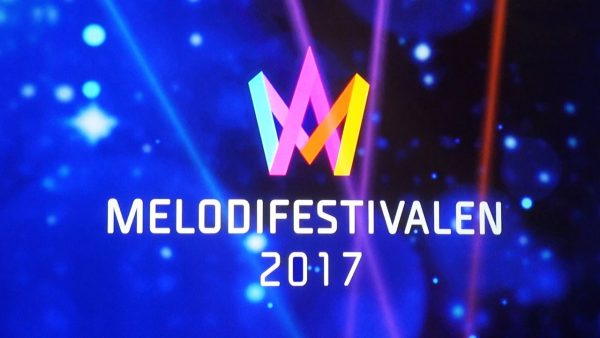 OK, it's about time I pulled my finger out (of where?) and started some writing for that Phil. It's usually Melodifestivalen that drags me around to it, so where better to start, now we have all of Christer's cards in front of us?
It's been quite a journey: as well as a clear no-schlager policy, Melodifestivalen has also become rather potty-mouthed this year. It was apparent from the opening act where presenter and You Tube 'sensation' Clara Henry welcomed us with an F-bomb, and it's continued with some very liberal f*cking peppering the songs. All well before the watershed. It's to be expected, of course: 2017 marks 15 years of Mello's touring format and that's about the age your offspring start to petulantly swear and stop listening to the songs their parents loved. Buckle yourself in for a few years of rebellion; retro schlager, like flares, will be back in vogue before you know it.
Familiar faces
For the international viewer, coming at Melodifestivalen through a purely Eurovision lens, it can often feel all about who-do-we-know-who's-done-it-before? We pore over the contestant lists in the autumn, and have picked our qualifiers long before we've even heard them sing a note. Of course, a pedigree helps, and it's no surprise to see Ace Wilder, Wiktoria, Mariette, Jon-Henrik and Robin Bengtsson direct til Solna for the final. It was mixed fortunes though for Dinah Nah, Krista Siegfrieds, Roger Pontare and Sara Varga, all out at the first fence, and spare a thought for poor Perrelli whose pre-show interviews indicated she'd already regretted her decision to enter a ballad. It was nice, in a way, to see a softer side of her but after her exhilarating tongue-in-cheek guest slot as the last Schlagerdiva standing in last year's show nobody had really expected her to ditch the glitter och glamour quite like that. Come back again, Charlotte, but play the f*cking hits next time.
Of course, what the international crowd misses in the build-up are the local Swedish cultural references that can surround an otherwise unexpected artist like Owe Thörnqvist. At first glance, his Boogieman Blues seems completely out of both time and place, but once you know how it taps into a long history of association with the genre and plays on his best-known hit, the Hotdog Boogie, then you understand this is exactly the kind of throwaway fun the Swedes want to see in the final, where it will momentarily delight whilst not being at any risk of winning.
Back for more
Undoubtedly the biggest name as we pored over those advance lists was Loreen. With one of the biggest Eurovision victories under her belt of course interest in what she would bring on her return was through the roof. Being handed the last slot in the last heat played on that momentum brilliantly. It's a tall ask to repeat such a feat, and Loreen wisely chose a very different style to Euphoria.
Statements delivered a bold and challenging new style and sound for (hashtag) Melfest, but is not a song that will have sufficient mass appeal to be a winner – although I would fancy her chances more on the Eurovision stage than at home on the Swedish one were she to unexpectedly get there. I don't suspect she really expected to win, and having correctly predicted her advance to Andra Chancen I think it was the right outcome. She's now got an extra performance to see if the song can gain sufficient momentum to gain traction before the final. Whilst it may well get there I'd be surprised if it actually wins, although it would be a welcome new sound for Eurovision.
So now we know the field, what will make it this year? The return of artists always prompts the call of "well, it's clearly X's year" but I'm not so sure; there's a lot of Xs competing for that nod. I like Mariette's entry far more than her 2015 attempt, but I'm not sure she'll best her third place. Jon Henrik's jojk feels a better song than his first entry, but continues to mark him out as a one-trick pony (however much I like his trick). Wiktoria has a better song but a less engaging performance than Save Me. Robin Bengtsson busts some very slick moves (and has already dropped his F-bombs in anticipation of needing a radio-friendly international version) but the off-stage start feels a little jaded after such liberal application by Simon Cowell on X Factor. And whilst Ace Wilder led much of the advance cheering there's still something about her mining of the teen pop genre that remains incongruent for me. Which leaves us with an untested option: Nano.
Sneaky Christer
Just like in 2016 Bjorkman snuck in a new voice whilst everyone was looking at the rest of the field. Then it was Frans, who had form as a child start. This year it's Nano. Drawing (very) heavily on recent chart sounds this stands out a mile, at once familiar whilst just about managing to create its own sound this feels to me to be like the most likely winner, and I can see it bringing Sweden yet another (f*cking) good result in May. But at the moment, it's still all about Italy…
Monty x