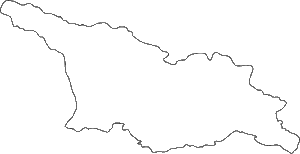 The first decade of this century saw a big expansion of the amount of countries taking part in our favourite TV show. Fifteen countries débuted. That's more countries than took part in the first contests.
One such début came from one of our eastern countries, in the form of Georgia. They brought a whole new flavour to proceedings, with their different language and even more different writing system. All very exotic. A bit like the stage show from today's birthday girl სოფო ხალვაში/Sopho Khalvashi. Yes, she's Georgian, of course she's called სოფო/Sopho. It had swords and dancing and sparks (if you look closely enough). She breezed through the semi-final in Helsinki and finished 12th. Her country has had better placings, but not many. I think it's her country's best.
Sopho is 36 today.
ბედნიერი დაბადების დღე, სოფო!