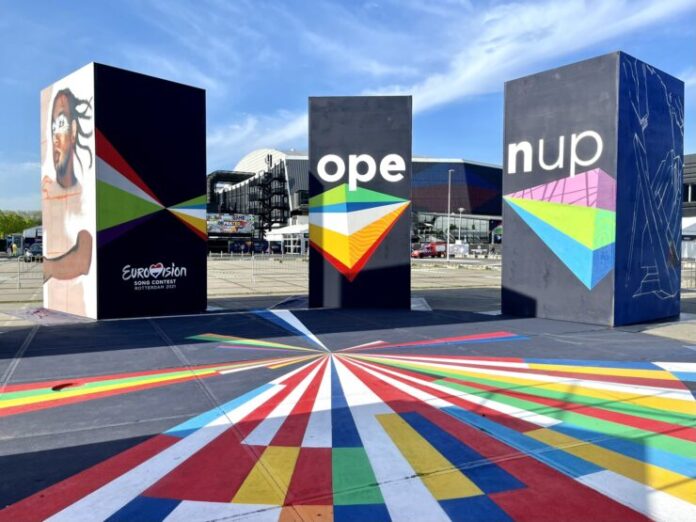 So I decided to join an, umm, 'interesting' virtual tour of the area arranged by the D'Arcy De Farcey independent tourism agency this morning, of which I'll be reporting considerably more later in the day, but thankfully I just about made it back to the virtual press centre in time for the Big 6 to do their first rehearsal sessions.
Italy's Maneskin are knocking it straight out of the park from the outset. They have a delightful sleaze about them, and while I'm loath to make unfair comparisons, I suddenly have a mental image of Team Finland being on an 8pm curfew because they've got their geography homework to get finished. "BUT MOOOOOMMMMMMM…". This mob aren't on an 8pm curfew, in fact I'll be surprised if they get home in time for tomorrow's lunch. Their rise to bookies' favourite smacks slightly of "Something must win and THIS IS SOMETHING", but it's definitely a textbook example of how to give people a little taster portion of rock concert and just for a second forget that there's a contest on.
Jendrik from Germany kind of takes it to the other extreme. I expected something proptastic, but props were in short supply unless you count somebody dressed as a hand. This one definitely is a made for TV show, and it's really very obvious that there's a contest on. It crossed my mind that if Lou (und Band, obviously, mustn't forget Band) had tried to deliver a live action interpretation of the Let's Get Happy preview video in 2003, it might not have looked a million miles different. I think nine-year old Me might well have begged the parents to cast a couple of votes for this, and I'm a big advocate of having a couple of songs every year that gives the nine-year-old Me of today the first song he'll have a memory of in years to come. It'll pull up no trees, but I'm glad it's there for the variety.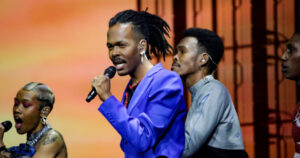 The Netherlands'es's Jeangu is taking advantage of having a lot of the pressure off as the home town contender. I don't think a home entry since Anna Vissi's in 2006 has had any particular desire to top the scoreboard, and I think this is the same – it's using the artistic freedom to produce something very personal and true to the performer. Ironically though, there's so much integrity and passion in the performance of Birth Of A New Age that it could end up cutting through and getting greater support than anybody expects. A slight clash of onscreen graphics and the press centre screen overlay has led to me humming "Yu no can film the screen, yu no can film the screen, PROHIBITED TO FILM THE SCREEN" a few times since the session, but obviously that won't be a problem when it goes to air on Week 3 Day 1, hopefully.
Barbara Pravi from France is one of those who brings no surprises. We expected darkness and spotlights, we expected emoting by the tonne, we expected Frenchness by the tonne and by god we GOT Frenchness by the tonne. If it were any more French it'd be wearing a string of onions. I'm happy – I hasten to add – that it isn't wearing a string of onions. It doesn't actually leave me much to say about it beyond that it is EXACTLY as likely to do well as it was 24 hours ago, because nothing has changed.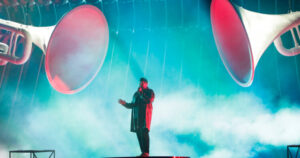 The most nervous moment of any rehearsal week for me is when the United Kingdom's Insert Name of Performer, In This Instance James Newman takes the stage, because of the permanent worry that the BBC will have BBC'ed it up again. If you're reading this right now BBC, please forgive me on that point! Honestly though, I think they've BBC'ed it up a bit. I wanted the brass hook visually emphasised, and they delivered an absolute sufficiency of emphasis by employing four people to look like they were playing brass instruments. To be fair, I didn't need a pair of prop trumpets 10 goats long, 4 goats wide and 5 goats high to press the point home. It's a song with a brass hook. I got that point by ACTUALLY LISTENING TO THE SONG IT'S NOT SEASIDE SPECIAL 1982 GODDAMMIT. And breathe…. and relax… Considering the team weren't even in the Netherlands this morning, they all look pretty comfortable with what they need to do. It's just a weird visual blend of far too much of some things and not nearly enough of some others, and I'm not sure who its constituency will turn out to be.
Finally came Blas Canto from Spain to complete our contingent. I think a lot of delegations must have had Eurovision 1987 on their watchlist during lockdown, because we've seen a good number of enormous balls up on stage this week, and not a few dodgy looking piles of clinker. Blas has brought probably the largest spherical object of all… I mean, there might be some forced perspective going on with his enormous moon, but if I'm any judge of scale it's as tall as 130 to 140 of Tix's angel wings piled atop each other. It must be easily the size of 30 of Miki's houses laid out side by side. Kate Miller-Heidke would have taken one look at it and said "Yeah, you wouldn't catch me that high up mate". It's 100 – 200 – perhaps even 300 recumbent goats tall. It's just a Really. Enormous. Moon. I'm telling you, you want to watch out for that moon. IT IS ONE HUGE MOON. Obviously I'm assuming here that it's actually a moon.
Oh, I think Blas sang a song as well.
Well, that wasn't too stressful in the end. Quite a relaxing day really. Not too hard on the nerves. Back a little later to have a look through my holiday snaps, and then we'll get close to polishing off these second rehearsals over the next couple of days.
Luke, ik ben jouw vader!
Vader? Je bent mijn vader, Vader?
Ja, leuke Luke! Ik, Vader, ben jouw vader!
Image Credits: Dave Geensen, EBU / Thomas Hanses, EBU / Thomas Hanses , EBU / Thomas Hans.