Roxen didn't have a good day when first she came to the Ahoy stage, so the Romanian delegation was looking to see this change. Certainly she displayed less in the way of nerves and her voice sounded steadier. The backdrop was far better, featuring more blocks of solid colour and figures aching to escape.
Whilst she used the camera far better and looked less like she was struggling to just get the next three minutes over and done with, it wasn't altogether convincing.
The dancers overwhelm the stage and pull focus – notably one long-haired gent who seems to have chosen to build his part. I'd suggest if they could keep their faces still (or covered) it might enhance the overall effect.
There looked to be a timing issue with each run through not quite finishing in line with the backing track. Not certain if it's calculated, but it looked wrong.
---
The Fanning Verdict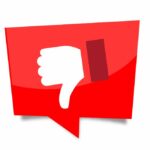 'Amnesia' is not an instant song, and seems to run out of steam too quickly. The staging is bustled, and it's impeding Roxen's performance. I think it's out.