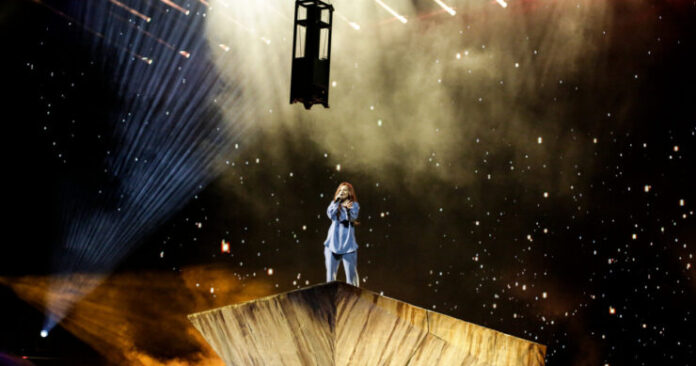 Now to Bulgaria, also riding high with the bookies. I think Victoria would have done really well with her song last year, and whilst this year's entry recreates a similar mood, I don't think it has quite the same magic. Let's see how it's done on stage.
A post on social media has just reminded me I know one member of the creative team behind this, a team also supporting an additional six acts this year. It's a team that has supported the likes of Dua Lipa out in the real world, and Dan, my friend, worked on the stunning Kate Bush shows in 2014. The portfolio also includes Electro Velvet, but nobody can be perfect, eh?
Victoria is lost at sea. Figuratively, through her lyrics of confusing emotions, and literally (well, theatrically) as she's cast atop an enormous chunk of flotsam, lit to appear floating in the ocean.
It's an expectedly intimate performance; plenty of close camera shots, lengthening as Victoria stands up and navigates her bulky raft. There's an effect of falling sand, plotting out the passage of time to illustrate the ageing descried in the song. Her floater spins in the water as she brings the song to a close.
The gentle music gives way to a flourishing crescendo and this is a highly effective piece of staging. Simple, but novel, and unique to the Eurovision stage. The buzz for this felt to have subsided somewhat but I think this will pique the interest again. Bulgaria is a contender.
Monty x
Image Credits: EBU / Thomas Hanses .