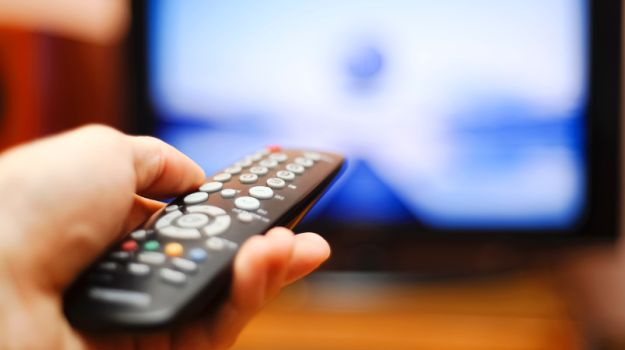 Update: We have now published a summary of 2019 figures.
As the dust settles on another Eurovision Song Contest, we look back at the viewing figures. Last year, numbers were down after Russia withdrew and didn't broadcast the event, but with 43 competing countries, it was always going to be a big occasion. You'll find numbers for the semi-finals further down the page.
The EBU confirmed its overall number for 2018 as 186 million on May 22. This represents the headline number (reach rather than number of people watching at any given time). It suggests that around 85-95 million were watching at any given moment.
The number represents a similar audience share to last year, but down on 2016. Factors that may have impacted include the ban on Chinese viewers and Russia failing to make the final. The official YouTube stream also picked up half a million views, though was offline for a week or so after the contest while edits were made to splice in SuRie's non-invaded performance, missing out on the key aftermath interest. By contrast, the first semi-final (3.3 million) and second (2.1 million) proved more popular.
2016 – A record year | 2017 – How many watched?
The main event
You'd expect strong interest in Cyprus, and initial figures do confirm this. A modest 50% of viewers tuned it at the start, but by the time the votes rolled in, 93.4% of viewers were glued to their screens. With an average of 245,740 (77%) tuning in, RIK confirmed it to be the highest number of viewers ever for Eurovision. Strong support carried over to Greece where – thanks to 1.85 million viewers – ERT enjoyed a 47.9% market share, rising to 66% during the vote count.
Oddly enough, the numbers in Israel were down on those for Tuesday's semi-final, but 1.06 million (35% share) still represents the highest rating for a Eurovision final since 2005 in a country of 9 million people. When Netta performed, the numbers jumped to 1.16 million.
In third-placed Austria, a 59% share of the market saw over a million watching as the nail-biting vote kicked off.
Reaching the final was great news for the Irish, and even better for national broadcaster RTE. The final averaged 690,000 viewers – a 52% share. As the voting ended almost a million had tuned in.
The Dutch showed less interest however – despite Waylon being a fairly known name. Generally negative local press coverage saw support drop away and just over three million watched – down almost one million on 2017. Estonia reported a decent turnout. The combined total (Etv and Russian Etv+) was 250,000, rising by 50,000 as 'La forza' aired. It represented a market share of 78.7%.
Saara Aalto earned the support of Finnish viewers. An average of 976,000 followed the show, with it reaching 2.1 million overall. A massive improvement on last year when just 525,000 tuned in. In Norway, 1.37 million watched – a healthy 84% market share – up a shade on 2017. In Sweden though, SVT reported the lowest viewing figures for a Eurovision final since 2010, with 2.6 million skipping good weather to watch. The Danes were keen to follow Rasmussen, 1.13 million were watching on Saturday evening.
There was better news in Serbia, where after disappointing numbers in recent years, RTS was happy to claim a 30.3% share with 2.3 million viewers. Lithuanian LRT reported an average of 560,000 – with a peak of 1.3 million – almost 70% of all viewers.
In Australia, Sunday was dominated by two screenings of the final. SBS recorded 266,000 up early for the live show. The evening repeat reached 256,000. It's a dip from 304,000 last year, but SBS On Demand numbers were up a stunning 454%, meaning the show reached 2.9 million Australians.
It wasn't such a great story in Hungary where interest looks to be waning. Just 403,559 viewers watched AWS in the final – almost half of the numbers recorded last year. Swiss broadcaster SRF also saw a disappointing result with just 234,000 viewers (23.1% share) – their lowest number since 2012.
They may have come last on the scoreboard, but host nation Portugal took the show to their hearts. An average of 1.55 million viewers followed the show – representing a 36.4% share.
Over in 'Big Five' land there was solid support. It was a good night for French broadcaster TRF1, with the most-watched final since 2009. 5.2 million viewers (an audience share of 28.5%), put it ahead of 'The Voice'. Another dominant talent show failed to beat Eurovision in The UK. An average of 6.9 million viewers watched – with a peak of 8.1 million viewers during the voting – the best results since 2014, and for the first time trumping 'Britain's Got Talent'. 6.4 million Spanish viewers rode the Operacion Triunfo wave to make  it the most watched Eurovision since 2008. An average of 3.4 million Italians watched, down ever so slightly on the gorilla-charged numbers of last year. Rounding off the Big Five, it was a huge night in Germany with 7.7 million watching.
Things were hit and miss in countries not taking part in the final. In Romania, the number was down massively on last year with just 158,000 watching. Belgian broadcaster VRT reported over 685,000 viewers, and despite that making it the most watched show of the night, it was around half the number who followed Blanche in 2017. Polish TVP had a poor night with 1.4 million – down almost half from 2.7 million in 2017. Iceland may have struggled this year, but an incredible 95/3% of viewers watched the final.
Logo TV reported a small jump in figures for its transmission in the USA – 74,000 watched, up just over 10,000 from last year.
First semi-final
We'll start with the host nation, of course, and Portuguese broadcaster RTP reports almost one million watching the first semi-final from Lisbon. Their highest ever numbers for a Eurovision semi-final.
Israel's fledgling public broadcaster Kan 11 enjoyed an average share of 23.8% with a peak of 40.3% – equal to around 1.2 million viewers – when Netta was on stage. Their digital platforms recorded an extra 620,000 views.
In Cyprus, interest was sky-high, and RIK claimed over an average 36% share (158,420 viewers), reaching a high share of 64.6% as the hosts named the ten qualifiers. 21% of the Estonian population tuned in to see Elina Nechayeva win her place in the final, with numbers averaging at 253,000. In Greece, the show enjoyed a 22.3% share with just over a million watching, up almost 400,000 on last year. Finnish YLE had an average of 616,000 viewers and a reach of 1.4 million.
In Austria viewer numbers averaged at 513,000 (23.5% share) with a peak of 632,000. Just over a quarter of a million Belgian viewers watched La Une. In Flanders VRT reported slightly more with 850,000 watching – making it the second highest rated show on Tuesday. 10.1% of viewers (122,000 people) watched in Switzerland.
The Czech Republic enjoyed a rare place in the grand final, but viewing numbers were down 30,000 on last year. An average of 116,000 watched.
In 'Big Five' world, things were much as expected. 404,000 tuned in for the Italian broadcast, down 20% on last year. A respectable 390,000 watched in Germany. The Operacion Triunfo hype helped give Spanish TV its most-watched semi-final since 2008 with 746,000 tuning in. 380,000 French viewers watched. In the UK and on BBC Four, the first Eurovision semi-final averaged 500,000 viewers – no real change over 2017.
As for those not taking part, just over a million Dutch viewers watched. In Australia, very few set their alarm clocks, and just 271,000 saw it live – the lowest figure since 2009. 821,000 Swedes watched, giving SVT a (relatively low) 34.8% market share. Danish interest was also on the low side with 409,000 viewers.
Second semi-final
After breaking records on Tuesday, numbers were down very slightly in Portugal for the second semi-final, but still more than  respectable, with 970,000 watching.
Waylon's PR machine had been hard at work fighting bad press in The Netherlands, and the second semi-final topped the ratings with 2.64 million viewers. A 71% market share (around 1 million people watching) must have pleased of Norwegian NRK. Swedish SVT were also smiling as they reported a much healthier 79.3% market share with 2.85 million counted. In Austria, 366,000 watched – representing 16% of the market. Danish broadcaster DR reported a healthy 735,000 viewers.
Numbers were massively up on the first heat in France, where 725,000 watched, giving a market share of 3.7%. In Germany 470,00 watched and it was more or less the same as Tuesday for BBC4 in the UK where an average of 544,000 tuned in. The Thursday show wasn't quite as big as the Tuesday outing in Spain where 524,000 viewers watched. Just under 400,000 watched in Italy.
Down under in Australia, the numbers were even lower than Tuesday with 53,000 up early for the live show. A more impressive 319,000 watched the evening re-run. Czech TV, on the other hand, continued to report dismal numbers. This time just 80,000 tuned in.
With no Greek song in the running, interest naturally tumbled for ERT who reported a record low 7.9% market share. It wasn't a great night for the show in Finland either. Without Ms Aalto, viewer numbers were down to 357,000. VRT reported 587,000 in its part of Belgium. In Switzerland, there was low interest, with just 89,000 tuning in. In Cyprus, numbers were down to 65,230 – still a healthy 25% share.
Image Credits: Andres Putting, Thomas Hanses.