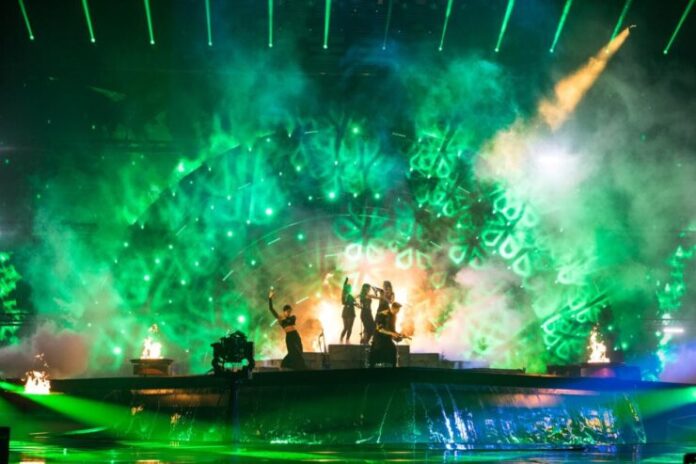 The French Eurovision team believe in showcasing aspects of their country's culture. Last year Pravi took us back to the golden age of chanson. This time around, we're exploring the primal nature of traditional Breton music.
For all this, what I watched today was Eurovision in a bottle – a good bottle, admittedly but still very much what I expect of the Contest. There is no other song like this – and that can either be a plus or minus point with the votes. It's likely to be something you either love or hate. I wasn't keen going into this and hoped to see a transformation live (as almost always happens with Ukraine). For me, it didn't win my affection.
Using overhead shots and on-stage graphics is possibly the best this year, creating a forest in which Alvin and Ahez perform. I agree with Mr Phil that there is way too much frantic shot selection. It's like they want to make up for the lack of people on stage – it calls for more. The LEDS look great and there's plenty of fire on stage – including a few giant versions of those fire pits you can buy at B&Q.
SHUM
If I had to hold it up against SHUM, I'd say that had the edge. That staging was more static, but with so much happening and yet it didn't go over the top. Go-A had a certain ice and there was a progression through the song. Alvin and Ahez is very one-note – we're right in and that's where we stay.
The French are adding diversity to the line-up, but this was perhaps too much to make it comfortable watch. Although I'd put this top ten in the televote, casual viewers might not feel the need to vote. I don't see it beating last year's result.