Last night, 22 semi-finalists lined up for the Malta Eurovision Song Contest, aiming to be the lucky holder of a Eurovision ticket – and likely the subject of jury-baiting rumours come May.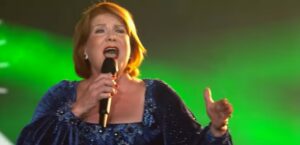 After a day of telephone voting, the results were announced this evening, at the end of a two-hour special featuring previous Maltese Eurovision faces.
Six songs bit the dust, leaving sixteen in the running for the big show on Saturday night. But for one reject, there remains hope. At the end of tonight's special show, the presenters announced yet another (money spinning) televote to award one extra spot in tomorrow's big show.
Here's the lineup for tomorrow (so far):
Matt BLXCK – "Come Around"
Denise Mercieca – "Boy"
Enya Magri – "Shame"
Sarah Bonnici – "Heaven"
Norbert Bondin – "How special you are"
Raquel Galdes Briffa – "Over You"
Mark Anthony Bartolo – "Serenity"
Baklava feat. Nicole – "Electric Indigo"
Aidan Cassar – "Ritmu"
Janice Mangion – "Army"
Nicole Hammett – "A lover's heart"
Nicole Azzopardi – "Into the fire"
Richard Micallef – "Hey Little"
Giada – "Revelación"
Emma Muscat – "Out Of Sight"
Miriana Conte – "Look what you've done now"
Established singer Emma Muscat, who made it to the final of Italy's Amici di Maria de Filippi and this year participated in the Vatican's Christmas Eve Concert, is widely tipped to win.
Richard Micallef represented Malta in the Eurovision Song Contest in 2014 with the group Firelight.  Nicole Azzopardi took part in the Junior Eurovision Song Contest in 2010.