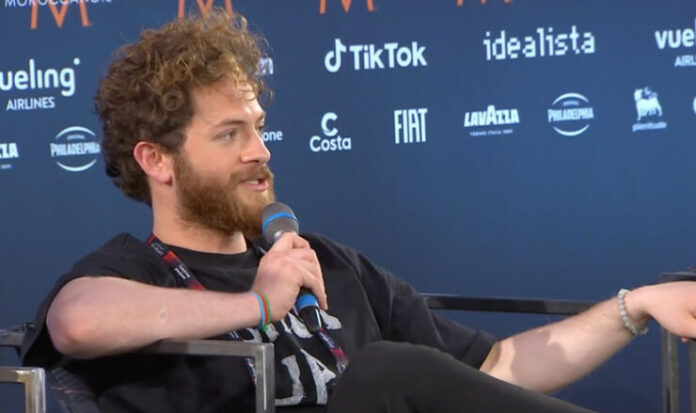 Following the spirit of "Allora" as has become customary already, the press conferences are running late, so a late sandwich for me then!
Nadir Rustamli arrived two days ago and has been to Milan and then to Turin. His English is not great, so he uses an interpreter. The staging – where he and a dancer walk up and down staircases – represents going from the past into the future. He faces his fears at the top of the staircase.
Rock or ballad?
Nadir wanted this song to represent him, it has lots of energy and it was not just the iTV choice but his as well. Before the song came to him, he would have liked to perform a rock song at the Contest, but the minute he heard 'Fade to Black' he realised he had a strong connection with ballads too.
He's wearing a t-shirt that says "Shut up" which he says keeps his vocal chords in tiptop shape. He was revealed as the representative of Azerbaijan on a morning TV show and was asked if he had any prior knowledge that he'd landed the job. He admits he had been hoping he might get picked for some time, but genuinely didn't know for sure in advance. He took part in 'The Voice Azerbaijan' where his mentor was former Eurovision winner Eldar – who's also in Turin as part of his delegation.
Staging concept
The promotional video for the song is linked to the staging concept. When filming it, he did actually have to fall into water and it was extremely cold. Lucky for Nadir, he's a former professional swimmer.
We rounded off with a chat about his Eurovision experience – like everyone else he's loving it – and he admires all the other acts. He'd love to work with them all (diplomatic). His favorite Eurovision song is Euphoria by Loreen (sigh). His musical influences growing up was Eldar! – Clearly Nadir is a diplomat but Eldar says he doesn't have to suck up to him, he's not deciding anything!