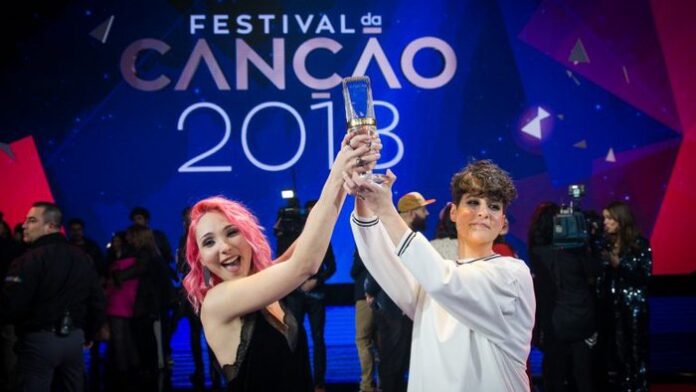 Rare indeed are the years when the host nation triumphs at Eurovision. 2018 shows little sign of breaking that pattern.
Last night, Cláudia Pascoal was (eventually) declared the winner of the PortugueseFestival da Canção with a pleasant enough song called "O Jardim". In case you didn't guess, the host nation are staying downbeat for another year.
When voting eventually ground to a halt, Cláudia was tied with jury fave Catarina Miranda, but was declared winner on the grounds of picking up maximum points from the popular vote – which is as life should be.
All in all, the show ran to three and a half hours, so if anyone did manage to stick with it, they more than Cláudia deserve our congratulations – she at least had access to a hospitality bar.
| Artist | Song | Jury | Televote | Total | Place |
| --- | --- | --- | --- | --- | --- |
| Rui David | "Sem medo" | 4 | 4 | 8 | 5 |
| Susana Travassos | "A mensageira" | 4 | 0 | 4 | 10 |
| Peter Serrado | "Sunset" | 0 | 3 | 3 | 11 |
| Joana Espadinha | "Zero a zero" | 5 | 0 | 5 | 9 |
| Lili | "O vôo das cegonhas" | 1 | 5 | 6 | 8 |
| Catarina Miranda | "Para sorrir eu não preciso de nada" | 12 | 10 | 22 | 2 |
| Joana Barra Vaz | "Anda estragar-me os planos" | 7 | 0 | 7 | 7 |
| David Pessoa | "Amor veloz" | 0 | 0 | 0 | 14 |
| Minnie & Rhayra | "Patati patata" | 0 | 2 | 2 | 13 |
| Janeiro | "(sem título)" | 6 | 6 | 12 | 4 |
| Maria Inês Paris | "Bandeira azul" | 2 | 1 | 3 | 12 |
| Anabela | "Para te dar abrigo" | 0 | 7 | 7 | 6 |
| Cláudia Pascoal | "O jardim" | 10 | 12 | 22 | 1 |
| Peu Madureira | "Só por ela" | 8 | 8 | 16 | 3 |