Emma Muscat says that for the first couple of runs, she was very anxious about being on such a big stage, but after that she got more comfy and it's going to be a great show.
The staging looks golden, apparently, and Emma tells us she was enjoying herself and her true love of music came out when she performed. Again, there is going to be a "surprise" in the staging. The reasons for the song change were that the original one was not a relatable song, and this one talks about universal love and how people should take a break and they should realise they are perfect in themselves. (she avoided saying it was because people thought the original was a pile of old poop!). She hasn't actually met the songwriters in person because of the whole plague thing, but she thinks it's not an issue as they've spoken online.
Social exclusion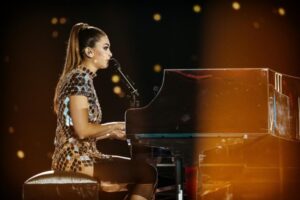 Emma is not ashamed of saying that she has been uncomfortable at times in her life and felt she was being excluded by friends and other people. For her, she was happiest when part of the talent show Amici in italy. When the moderator said she should follow the wisdom of Gloria Gaynor (with her song also entitled I am what I am), she insisted she's never heard of the song (Yeah, right).
The subject turned to advice from previous entries? It sounded like the answer was "no" – she was, though, proud to be associated with all of the strong women that have represented Malta in the past.
Changing room
As opposed to changing the song, the question about changing an outfit has cropped up (from the national final). Emma feels as though this song called for a different style and added, why should she be constrained by one outfit, anyway?
Emma has post-Eurovision plans – specifically a studio album (I am Emma) comes out the day before the final. She's also hoping to do more live shows and would love top take part in the next Sanremo.
Image Credits: EBU / Nathan Reinds.