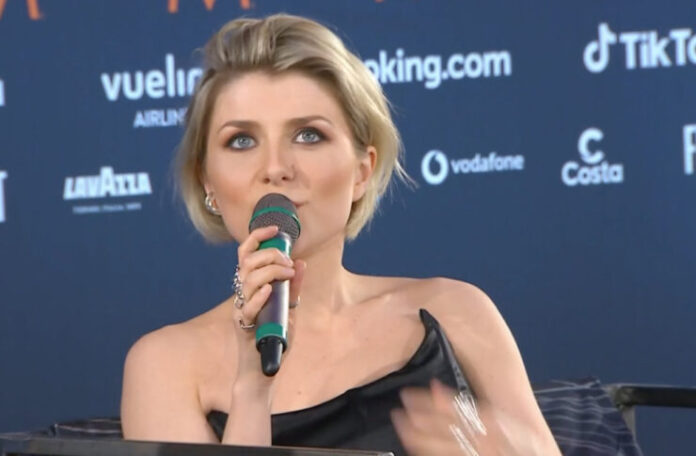 It seems the Allora levels are running high today – just like most everyone before her, Cornelia was late arriving in the Press Centre.
She had fun on stage, although not everything went to plan. She fell over and managed to break her in-ear monitor, but she loved the stage, calling it beautiful – even if things out there were kinda loud and noise from the waterfall extremely off-putting at first.
'Hold me closer' finds her on stage alone, and she has much she needs to convey in the performance. The stage here is so big, whereas the one in Sweden was so small. She's been striving to get the same essence and vibe as before, but now there is the chance to make it huge at the end. The inspiration for the song was written in the middle of a breakup period of an on-off-on relationship last summer, one that was both toxic and passionate.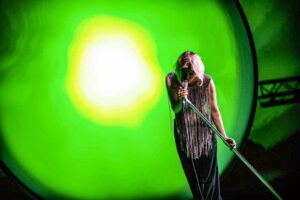 Cheering things up, Melodifestivalen gets a look in. It was amazing to win the competition, especially since her parents were there at the final. Even now, she's overwhelmed by what happened in a great way, and can't get her head around it, comparing it to a surreal out-of-body experience when they announced she'd won.
Melodifestivalen
Melodifestivalen gets a look in – it was amazing that she won and her parents were there – her father is the Poodles' singer Jakob Samuel. Winning the show was a dream, but at the same time, she wanted to be true to herself musically and share her music with a wider audience. It's a big circus and it's easy to lose yourself in TV shows, and with lots of people wanting things from you, it's sometimes easy to be a crowd pleaser, but she's happy she stuck to her guns.
The music industry is a lonely place, and she gets paid infrequently. There's little security – you're very much on your own. Nobody gets paid unless you have a hit, then a year and half later you get a tiny amount. It's super hard to stay in the job if all you wanted was money. That's not why she's doing it, otherwise she'd have had to find some other job by now. For her, live performing is a form of therapy. It's the only place where she can get a rest from her head. her head stops. She can just be in her emotions and get them out. She puts her heart and soul into the music she produces. If she can't see the show she wants to get over in her mind's eye, she doesn't do it.
Influences
Onto musical influences and she mentions Britney Spears and Sting and The Cardigans – mostly on account of how she loves 90s pop and rock, but she's also a big fan of Oasis and Nina Simone.
There's a minute where she shows off her jeans. Self-customised with old necklaces. Luckily she gets clothing advice from her mother – who works in the fashion industry – it's saved her many a faux pas.